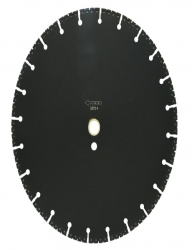 Staten Island, NY, May 07, 2009 --(
PR.com
)-- Diamond Blade Dealer, a leading wholesaler of diamond blades and related masonry supplies, is pleased to announce the introduction of their new Rescue Blade. The blade, which is designed for rescue and can cut through a wide variety of materials, is constructed from the highest quality diamonds available. Element 6 Diamonds from DeBeers Diamonds are individually placed on every segment of the blade to prevent bunching and the blade is manufactured using a vacuum brazed single layer technology. This allows the Rescue Blade to cut twice as fast as an abrasive blade and last up to 70 times longer.
Rescue Blades are used in emergency situations by fire departments and rescue units throughout the world. The blades cut through materials such as metal, chains, locks, iron fencing, re-bar, steel, pipe, ductile iron, cast iron, copper, concrete, masonry, stone, stucco, wood, HDPE, PVC, plastic, metal, roofing, steel studs, and more.
The multi-purpose Rescue Blades offer many benefits including:
· Vacuum brazed single layer technology and laser welded design using the highest quality diamonds.
· Small holes and slots near diamond segments, ensuring smooth cutting, saw blade air cooling, and noise reduction.
· Rescue Blades cut twice as fast as abrasive blades and last up to 70 times longer.
· Multi-purpose blades are designed to cut through all types of materials so fire departments and rescue units only need one blade no matter what the situation.
The Rescue Blade is now being offered by Diamond Blade Dealer with discounted pricing to fire departments and rescue units worldwide. "Extending a discount to the heroes that save lives everyday is the least we can do," says Joe Martino, CEO of DiamondBladeDealer.com. "By providing discounted pricing, fire departments and rescue units can have the highest quality supplies available to help the public, while saving money on those supplies so they can spend on other much needed items. We are happy to make that contribution." Fire and rescue companies should contact Diamond Blade Dealer directly for discounted pricing.
About Diamond Blade Dealer:
Diamond Blade Dealer is a wholesale supplier of diamond blades, core bits, polishing pads, grinding shoes, and cup wheels for concrete, asphalt, masonry, tile, porcelain, granite and marble. The company operates a store online at www.diamondbladedealer.com and offers high quality products at low prices.
###