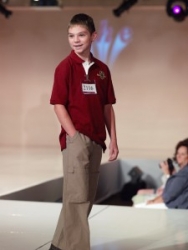 Henderson, NV, May 07, 2009 --(
PR.com
)-- Expthe.tv event participant David Gress arrived at the Phoenix competition in 2008 with a desire to have a future in show business. He had no idea what the outcome of the three-day event would be, but the young man came ready to compete. He went home as the $10,000 winner in the 11-13 age division, and a burning desire to take his talent to Hollywood.
Not too long after his win, his parents decided to take David to LA and see just what would happen. Well, again, his talent is paying off for him. David has full agency representation now, and even has a manager. He was cast in a short film, and the project has been completed. But the big news is his recent audition for Steven Speilberg. He is at the beginning of a show business career, and doing well.
About "The"
"The" is a modeling and acting event that brings aspiring models and talent together with leading modeling and talent agencies from Los Angeles, New York, and other major markets across the country. Participation is by invitation only.
###