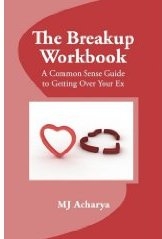 Newton Highlands, MA, May 14, 2009 --(
PR.com
)-- BHG Books announces that author and online breakup expert Melysha J. Acharya has written the world's first truly interactive breakup book. The Breakup Workbook: A Common Sense Guide to Getting Over Your Ex, is now available on paperback from Amazon.com, for a suggested price of $13.95.
The Breakup Workbook contains 33 do-it-yourself breakup recovery exercises that can be completed within space provided in the book. It's for everyone who has gone through; is going through, or who most probably will go through the pain and misery of a failed relationship. The book is the first to use technology to the reader's advantage: it works concurrently with a website, www.BrokenHeartedGirl.com, an interactive forum and a reference blog to maximize the reader's healing potential. The forum contains nearly 20,000 posts from its 1,500 members from 32 different countries. Additionally, readers are encouraged to email the author for advice – with no consulting fee charged: another first in the self-help industry.
Acharya, a freelance copywriter and graduate of Michigan State University, says that she originally wrote The Breakup Workbook as an answer to books that did not provide an actionable breakup plan specific to her situation. She states, "When I was going through my breakup I wanted to find a book that spoke to me. Instead, I found a lot of books that spoke at me. I took great pains to ensure that this book would focus upon the individual reader's breakup. This is why I created it as a Workbook: the reader completes 33 different recovery exercises, while actually writing within space provided in the book. The book serves as an all-in-one diary, reference manual and progress measure.
On the use of technology to supplement her book, MJ says, "I originally posted The Breakup Workbook online to gauge interest and to get feedback from my readers before publishing it as a paperback. And this is where the forum came in. The blog was just a natural next-step. I offer an advice portion on the blog where people can ask me direct questions, and I also write articles about breakups and recovery tactics. I mean, let's face it; a book alone is not going to help someone get over a breakup. People want and need more than that. That's why I decided to incorporate technology and social media as a real-time, continuously-updated complement to The Breakup Workbook."
The Breakup Workbook has sold thousands of copies as an eBook in over 32 countries, and will be available as a paperback on Amazon.com and BarnesandNoble.com, and for ordering through Ingram, effective May 14, 2009, at a suggested retail price of $13.95. Acharya is available for expert interviews in television, radio and print media. Please contact admin@brokenheartedgirl.com for a complete press kit, or call 810-333-2861 for more information.
###