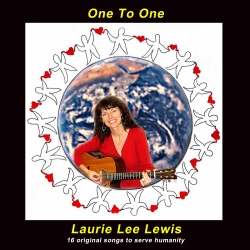 Deming, WA, May 13, 2009 --(
PR.com
)-- Making a difference in today's roller coaster economy is a challenge for even big stars. So what if you are an unknown singer-songwriter, from a tiny town, determined to inspire others and raise money for 5 charities too?
That is exactly what Laurie Lee Lewis of Deming, WA is doing. She believes her 20 years recording her own music and 40 years total of performing - should account for something. From where she stands, Laurie wants to represent anyone who would like to help charities, but not sure how. By purchasing Laurie's beautifully produced, variety-pack CD, sales will raise funds while the music serves the heart, in questionable times.
"I tried to create positive songs for everyone and most any age. Ok teens might find me a little boring. I left out rap and heavy metal! But it is definitely 16 songs of musical variety. Latin, country, pop, Dixieland, celtic and even a little blues. The songs touch on many emotions that most of us can relate to: compassion, world betterment, healing, love, dreams, humor, service, family and community."
What makes this CD extra special is the fact that it nearly did not happen. After 3 concussions in a row, last summer/fall, Laurie thought she may never do music again. In desperation to reconnect, heal and find inspiration, Laurie intentionally erased all the songs she had been recording for this CD, before the accidents. About a week later, Laurie found the title song in her studio, not only completely written, but recorded as well! "I call this my concussion song, for I barely remember writing it, let alone recording it!" One To One was the new beginning of inspiration; 15 songs followed soon after.
So - can one woman from a tiny town make a global difference? Not alone. But together... absolutely! As the chorus from Laurie Lee Lewis' title song tells us: "One to one, connecting to each other, heart to heart, the world's community. Reaching out, taking care of another, one to one, together... family."
To hear songs, learn more about this project and the charities or order CDs, go to Laurie's website at www.onetoonetogether.com or write to her company for an order form at Under The Rainbow Creations, P.O. Box 643, Deming, WA 98244 USA
###