Entrepreneurs Expand Marketing in Down Economy through Creative Networking
Stick-e ® Brands, the makers of Yoga Stick-e® Socks for that Barefoot Feeling! and other non-slip Yoga accessories is leveraging the strengths of other entrepreneurs and the media to reach far beyond their marketing budget.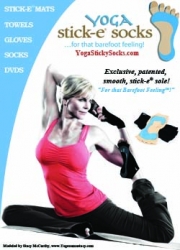 Chicago, IL, May 15, 2009 --(
PR.com
)-- Small businesses and entrepreneurs never have enough time or money to implement all of the marketing plans they would like. This is especially true in tough economic times where credit and resources are tight. However, Libby Andrews, the owner of Stick-e® Brands and the inventor of Yoga Stick-e® Socks...for that Barefoot Feeling! is creatively networking with other entrepreneurs to maximize marketing exposure. With small marketing budgets, creativity becomes the name of the game for building a brand and maintaining new product momentum.
"As a self funded business, I am always looking for innovative ways of reaching my target audience with little investment. I have found that most small business owners are doing the same and are very excited about co-marketing ventures and forming strategic marketing alliances. All you have to do is ask!", says Libby Andrews, owner of Stick-e® Brands.
One of the more innovative and exciting low cost advertising opportunities is being offered by All Star Radio Networks. Through All Star Radio Networks, Stick-e® Brands provides prizes to hundreds of radio stations nationwide. Stick-e® Brands, writes the product description for the on-air personality to use. After a winner has been announced, the radio station contacts Stick-e® Brands with the winners' information. Then Stick-e® Brands' mails the product directly to the winner. The only cost involved is that of the product and postage. The radio stations win, Stick-e® Brands wins, and the listeners win.
Working with complementary businesses is another way for small businesses to expand reach to their target markets. Beamfit™ and Stick-e® Brands are benefiting from this arrangement. Beaming is the newest core workout being implemented at health clubs around the country. Beaming™ utilizes barefoot training with one's sensory systems on a soft balance beam type of fixture creating a fun yet challenging experience. David Mesirow, owner and founder of Beamfit™, contacted Stick-e® Brands as he discovered that many Beaming students preferred not to be barefoot. Through a strategic marketing alliance, Beamfit™ promotes Yoga Stick-e® Socks on their website and tradeshow booths with their instructors wearing the product. In return, Stick-e® Brands highlights Beamfit™ on its website and shares lead information. According to David Mesirow, "the relationship we have formed with Stick-e® Brands benefits each of our companies by expanding our brand recognition and product acceptance but more importantly our customers benefit!".
Having the right personality and image associated with a brand is important for attracting consumer attention. Small companies generally can't afford celebrity endorsement. To overcome this, Stick-e® Brands has formed a relationship with Stacy McCarthy. Stacy has established a world renowned reputation in the Health Fitness industry developing cutting-edge classes, producing Yoga DVDs, hosting retreats and addressing conferences. Stacy's image now graces Stick-e® Brands' national magazine advertisements, tradeshow booth and marketing collateral. Stacy provides the photos and Stick-e® Brands provides acknowledgement and sells her DVDs on their website,
www.YogaStickySocks.com
.
Stick-e® Brands' introduced Yoga Stick-e® Socks for that Barefoot Feeling! a year and a half ago. Through aggressive PR and strategic alliances, they now have a full line of Yoga non-slip, hygienic, accessories and are sold in over 350 retailers and 14 countries as well as on prominent websites including Amazon.com, Walmart.com and soon Walgreens.com. Their products have become the standard for non-slip innovative accessories for yoga.
###
Contact
Stick-e Brands
Libby Andrews
708-369-5775
www.yogastickysocks.com

Contact