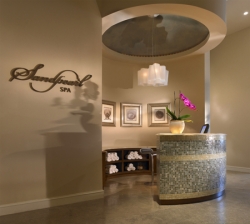 Winter Park, FL, May 16, 2009 --(
PR.com
)-- Contact:
stephaniehenley@beasleyandhenley.com
; 407-629-7756
Beasley & Henley Interior Design is proud to be involved in the design of the famous Sandpearl Spa at the Sandpearl Resort in Clearwater Beach, Florida. The Sandpearl Resort and Spa, by JMC Communities, has been ranked 8th on Expedia's Insider's Select ranking of Top Resorts around the world for 2009.
Troy Beasley of Beasley & Henley Interior Design congratulates JMC, saying. "They put a great team together and the results speak for themselves!"
Beasley explains that, "Design affects everyone's lives and in this case their spa experience. We are very proud to be part of the wonderful team at the Sandpearl Spa."
The 10,000 sq ft Spa was designed to be an extension of the beautiful ocean setting, which is just outside its doors, and to have an organic feel from top to bottom. Beasley created a look that is open and inviting with reflective surfaces, textured glass and calming features. He explains, "I purposefully created the color palette to be in sync with the hues of the beach, and the Gulf of Mexico's blue-green waters and sea oat colored surfaces." The lighting and ceiling designs are organic, with undulating shapes and circular, shell like qualities.
For more information on Beasley & Henley and to see photos of their award-winning work, log onto
www.beasleyandhenley.com
or reach Stephanie Henley at stephaniehenley@beasleyandhenley.com.
Beasley & Henley Interior Design is a 15-year-old interior design firm, specializing in Exclusive Residences, Interior Architecture and Luxury Commercial Interiors. Their work has been featured in regional and national publications and their awards are numerous. Beasley & Henley's award winning design and architectural detailing can be seen throughout Florida and across the country.
Contact: Stephanie Henley
stephaniehenley@beasleyandhenley.com
407-629-7756