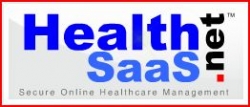 Beaverton, OR, June 02, 2009 --(
PR.com
)-- HealthSaaS.net today announced it will launch a new application using Microsoft SQL Server 2008, earning the company Front Runner status from Microsoft Corp. HealthSaaS.net in combination with Microsoft SQL Server 2008 helps enable healthcare providers, research organizations, and payors, improve efficacy, efficiencies, and quality of life for patients dealing with acute or chronic pain, terminal illness, and other medical conditions. SQL Server 2008 provides the trusted, productive and intelligent Data Platform for business-critical applications.
"Microsoft remains committed to the success of our broad ISV partner community who drive innovative solutions to market," said Mark Jewett, marketing director, SQL Server at Microsoft Corp. "The Front Runner program was designed to provide our partners with the best development environment possible and give them the technical and marketing tools they need to be successful over the long term."
"HealthSaaS.net is excited to support SQL Server 2008 because it is a great leap forward. The scalability, reliability, and seamless integration with the rest of the Microsoft platform make SQL Server 2008 our preferred database platform," said Alan Paget, CTO of HealthSaaS.net. "Achieving Front Runner status enables us to deliver applications to customers within the same timeframe as the launch of SQL Server 2008. As a result of the solution we have developed, we are uniquely positioned to help our customers get the most from their technology investment."
HealthSaaS.net Mission
"To improve the quality of life for those suffering from acute or chronic pain"
"To enhance efficacy by helping physicians deliver evidence based treatment"
"To lower the cost of healthcare delivery"
HealthSaaS.net Service
Medical research has proven that consistent use of a patient diary treatment management solution can improve the quality of care for those suffering from acute or chronic pain, terminal illness, and other medical conditions.
This Free patient diary treatment management service enables registered patient members to record pain locations, pain types, pain intensity, medications, treatments, therapies, exercise, activities, additional symptoms, and quality of life concerns.
The HealthSaaS.net service will also facilitate better communication between patients and their healthcare providers through secure account file sharing or our Provider Portal. Patient driven data will help providers identify both effective and ineffective treatments and medications. Healthcare providers may then make treatment and medication modifications to improve efficacy and provide patient-members with a more consistent and improved quality of life.
Standard and private labeled Provider Portal's enable authorized provider's secure and easy access to patient data and reports.
HealthSaaS.net also offers fee based clinical trials and research studies.
Fee based analytics services are available to help clinical researchers, pharmaceutical companies, and payors improve efficiencies.
http://www.healthsaas.net
Product or service names mentioned herein are the trademarks of their respective owners.
###