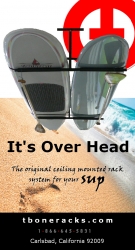 Carlsbad, CA, June 18, 2009 --(
PR.com
)-- TBONERACKS™, an innovator in sports-equipment storage, finds a niche market in the stand up paddle board (SUP) craze with the introduction of its new ceiling-mounted rack designed to store stand up paddle boards, surfboards, longboards, kayaks and more.
"As SUP enthusiasts ourselves, we needed to find a way to safely store our SUP's so that they were safe and out of the way," said owner and designer Greg Gordon. "TBONERACKS™ was borne out of necessity. By storing my own SUP quiver in a ceiling-mounted rack system, I found a place that was safe, out of the way, but always ready to use." Gordon goes on to say- "The response to our new rack system in the SUP market has been tremendous and the market is responding very positively to our new design. This sport is growing by storm and we are well positioned as our new rack system is perfect for SUP storage."
"The new SUP rack systems are made of high quality steel, very beefy! They have a killer sleek look with a black powder coating finish and low profile rubber sleeves that cover the rack arms. What makes our new rack unique is that it is adjustable both horizontally and vertically. Our racks are the only adjustable overhead SUP rack on the market," Gordon explains.
A dual SUP storage TBONERACKS™ system, designed to hold two rides, is currently offered in San Diego's premier surf shops - such as, SurfRide and Hansen's and on-line at
www.tboneracks.com
"We are making our debut into the stand up paddle board market place by offering cutting edge storage systems," Gordon said. "Sports enthusiasts invest a great deal of money in their equipment and we can help them maintain it. We figure that if they're not on it or in it, they should hang their ride on one of our racks."
###
www.tboneracks.com
7668 El Camino Real
Suite 104-117
Carlsbad, CA 92009
Phone (866) 645-5831
www.tboneracks.com
Contact: Greg Gordon
Phone: (866) 645-5831