Mississippi Historical Markers Launched at StoppingPoints.com
StoppingPoints.com has released a new section based upon the historical markers of Mississippi. The Mississippi section includes about 700 historic sites and markers, identified, mapped, and further mashed-up with additional unique data.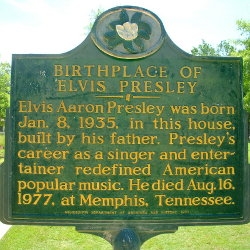 College Station, TX, June 19, 2009 --(
PR.com
)-- StoppingPoints.com, a guide for finding historical markers and points of interest throughout the United States, this week has just launched a new and extensive section thoroughly covering the
historical markers of Mississippi
.
The Mississippi StoppingPoints section lists and pinpoints about 700 markers within the state - more than virtually any other online source. Most markers are mapped by county, by city, and individually, allowing history buffs to easily locate them when visiting the Magnolia State.
Bill Lawson, Editor-in-Chief for StoppingPoints.com, states "We believe our Mississippi historical site guide is probably the most comprehensive of anywhere. Our researchers located and documented more markers than are even listed on the official pages of the Mississippi Department of Archives and History website!"
The section allows users to navigate by Miss. counties and cities in order to view maps pinpointing all historical markers in each area. While some counties have relatively few historical sites, others contain dozens of small, green-and-white marker icons, such as the page for Vicksburg.
The site includes some of the top best-known cultural landmarks in the state, such as the Birthplace of Elvis marker page which maps the home where Elvis was born in Tupelo, and includes the street address, museum phone number, and website.
For the technically savvy, hidden in the code of the pages are hCard microformats, allowing those with advanced devices to easily copy contact information to address books for quick transportation. "These features are very important to internet users," said Lawson. "We're combining multiple technologies such as microformats, special displays for mobile devices, and Google Maps to provide a feature-rich and easily navigable internet experience. We try to make complex information very easy to find and use."
The simplicity of the user-experience and straightforward delivery of info masks a number of development challenges, however. StoppingPoints encountered numerous challenges in building the Mississippi data.
"A really surprising number of historical markers appear to be missing in the State of Mississippi," said Lawson. "In fact, a suspiciously large number of markers seem to be gone from their locations all over the state. We've actually theorized that these markers may have been stolen and resold to metal recycling companies."
StoppingPoints continues to enhance and expand the Mississippi data and site features. Upcoming features will likely include tools for users to add comments, questions, and data to the site and features allowing individuals to record cemetery gravestone information (in support of genealogical research). Other features expected to release very soon include special categorization pages listing Civil War historic markers, Natchez Trace sites, historic Cemeteries, and literary and music sites important to the state's cultural past.
###
Contact
StoppingPoints.com
Bill Lawson
469-619-0935
www.stoppingpoints.com

Contact