TruMedia Networks Launches TruFan.com
New social media platform powers national online network of local sports fan communities dedicated to professional sports teams in US; each community site enables fans to easily locate and share local sports news, content and opinions about their favorite local teams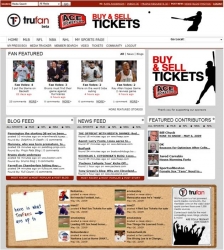 Boston, MA, June 24, 2009 --(
PR.com
)-- TruMedia Networks, a developer of social media technologies focused on building online sports fan communities on a local and regional level, today introduced TruFan.com, a new social media platform powering a national network of grassroots sports communities dedicated to each of the 122 professional sports teams in Major League Baseball, the National Football League, the National Basketball Association and the National Hockey League.
The TruFan.com social media platform is designed specifically to power professional sports communities at the local level enabling fans to share and aggregate news and multimedia content about their favorite sports teams from a variety of online sources including traditional print and broadcast media and independent blogs. A beta version of the TruFan.com platform was first introduced in Boston in early 2008 with pilot communities Sawxheads.com (Boston Red Sox), Celtsheads.com (Boston Celtics), Blackandgoldheads.com (Boston Bruins), and Patsheads.com (New England Patriots). Since its inception Sawxheads.com has grown to more than 25,000 active users.
"Each TruFan.com community gives rabid sports fans the opportunity to view and create original content about their favorite team as well as connect and communicate with other fans who share their same passion," said Rafe Anderson, CEO of TruMedia Networks. "Building community is not a top down approach but starts at the grassroots. The TruFan.com platform provides sports fans with a broad set of social networking tools to enable each community to develop its own unique voice and culture."
TruFan.com Community Features:
Blogging tools: Fans will have the opportunity to claim their space in the blogosphere by creating and managing their own sports and team-focused blog
Content aggregation: News, blogs and video content taken from a host of relevant sites to provide fans with all of the latest information about their favorite teams in real-time. Additionally, each site will feature the top independent bloggers covering each team.
Personalized pages: Fans can customize their pages to include specific content, graphics and additional site features
Messaging tools: TruFan.com users can interact one-on-one or in groups with a host of messaging applications
Game reporting tools: Fans can submit their own previews, game recap and stories for their teams – before, during or after the game is played
Fan voting: Fans have the ability to vote on content such as stories and blogs posted by other fans, slugfest debates and photos
Survey tools: TruFan.com users can build their own polls that allow other members to weigh in on specific topics and questions
Marketplace: Allows users to buy and sell both tickets and merchandise
Online Ticketing application: Fans are given the online tools to buy and sell tickets for local games to other local members cancelling out shipping and handling fees
TruMedia Networks is licensing the TruFan.com platform and technology to sports teams and regional media companies interested in producing their own online fan community within each respective market. "Our platform provides media companies and pro sports teams with a shrink-wrapped solution for building out their own customized online community that can drive immediate revenue with minimal CAPEX investment," continued Anderson.
TruFan.com communities provide an efficient, targeted approach for sponsors and advertisers to reach their key constituencies. The grassroots nature of each site offers companies a more direct, high-impact way to engage with fans passionate about individual sports teams. It also allows entry points for companies locked out of team-managed websites due to cost or exclusivity.
"Businesses can now have direct access to a team's passionate sports fans in targeted geographic areas, delivering their message to the right audience for the right price," said Anderson. "For media companies or teams licensing the TruFan.com technology, the solution provides them with a very cost effective platform to tap into their existing community to realize new revenue opportunities."
About Trufan.com
TruFan.com
is a social network dedicated to the local sport fan. TruFan.com is focused on empowering fans and enhancing their overall online experience by providing access to timely and relevant sports media that has been enhanced by other fans that share their passion for the home team. TruFan.com members add to sports media content with their own videos, pictures, comments and more.
About TruMedia Networks
TruMedia Networks
is a developer of social media technologies focused on building communities of sports fans on a local and regional level. TruMedia is privately held and based in Brighton, Massachusetts with an office in North Adams, Massachusetts.
###
Contact
TruMedia Networks
Stacey Klein
617 861-3652
www.trumedianetworks.com
John Gates - 617 861-3651, jgates@elevatecom.com

Contact
Multimedia
New social media platform powers national online network of local sports fan communities dedicated to professional sports teams in US; each community site enables fans to easily locate and share local sports news, content and opinions about their favorite local teams