LawProspector Takes to the Road with LawProspector Mobile
The Premier Litigation-Related Sales Tool for Litigation Support Firms Launches All New Mobile Product for Business Development Professionals On-the-Go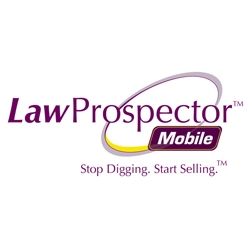 Los Angeles, CA, June 24, 2009 --(
PR.com
)-- To coincide with the start of LegalTech West Coast, LawProspector announces the release of LawProspector Mobile. Built for litigation support sales teams and business development teams at major law firms, LawProspector offers an unprecedented view into the current and future litigation activities of tens of thousands of attorneys, hundreds of law firms and thousands of corporate in-house legal departments. With LawProspector Mobile, that data will now be in the hands of increasingly mobile business development professionals.
Never before has there been such near-instantaneous access to critical data about the litigation marketplace. LawProspector subscribers are using LawProspector to uncover sales leads in minutes that used to take hours, days and months of research.
"In an effort to meet the demand for the best litigation marketplace data anytime and anywhere, we built LawProspector Mobile, and there is no other product like it," said Ken Lopez, LawProspector's Founder. "We are rolling out LawProspector Mobile in beta, initially, and we will solicit feedback to make this product perfect."
With LawProspector Mobile, if you have your phone, you have all the data you need to develop more business. LawProspector Mobile -- prospects, in the palm of your hand.
About LawProspector
LawProspector is a firm founded by a group of attorneys working in the litigation support field. The firm developed its LawProspector software-as-a-service (SaaS) product in early 2008 and immediately began signing up subscribers. LawProspector operated in private beta for a year and refined its tool with feedback from current subscribers. Current subscribers include top 100 law firms and litigation support firms with revenues ranging from one million to hundreds of millions of dollars. LawProspector expects its subscriber base to grow from hundreds in 2009 to thousands over the next few years. Subscribers pay a monthly subscription fee that is a fraction of the cost of a single researcher conducting similar research manually.
LawProspector, LLC - All rights reserved. LawProspector™ is a registered trademark of LawProspector, LLC in the US and/or certain other countries.
Press Contact:
LawProspector
Gabrielle Ballantine
ballantine@lawprospector.com
Press Coordinator
(800) 738–8018 x8
Sales Contacts:
sales@lawprospector.com
(800) 738-8018 x1
http://www.lawprospector.com/
http://www.litigationsupport.com/
http://www.lawfirmselling.com/
Permalink: http://www.LawProspector.com/press/mobilelaunch.html
###
Contact
LawProspector, LLC
Gabrielle Ballantine
(800) 738–8018
www.lawprospector.com
ballantine@lawprospector.com, 800-738-8018 x8

Contact