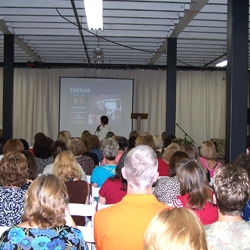 Dublin, CA, July 01, 2009 --(
PR.com
)-- Welcome Home Furniture Rental kicks off the 2nd Annual StagersLIST Expo at their Furniture Warehouse and Design Center, 6938 Sierra Court, Dublin, CA, on July 15, 2009. The event is produced by StagersLISTExpo.com, The resource for professional Home Stagers, Designers, Real Estate Agents and service providers who benefit by their alliances with the Real Estate Staging Industry. Welcome Home also hosted the first sold out event in 2008, providing education, business skills, previews of businesses, design and staging courses to their attendees. "We are seeing many attendees at our events who are contemplating a career change to the Staging Industry," says Terrylynn Fisher, CEO of StagersLISTExpo.com. "It's the perfect venue for getting to know what the industry is about and previewing various education opportunities before making a choice on which to pursue."
"We are all in the Real Estate Industry," says Terrylynn. The fact of the matter is that Real Estate Home Staging, staging to live and design clients have put home stagers in a position to partner with Real Estate professionals and service providers as their clients who flip homes, improve homes for sale now or later, contact home stagers in some areas more than 50% of the time (rather than coming to the home stager through their Real Estate Agent). This number is up from 10-20% a few years ago.
The Expo Vendor Faire provides exposure to businesses and services that Realtors and Real Estate Staging Professionals recommend to their clients every day. Bekins was an early addition to the StagersLIST Expo series, quickly seeing the value of a referral. Their "Move to Sell" program gives Real Estate Agents and Real Estate Home Stagers a partner who can remove extra items to help prepare the space for staging. To register or learn more visit StagersLISTExpo.com.
Speakers will discuss how communication styles can be used to increase your business, search engine optimization and how to successfully market your home online, how to use Feng Shui for Real Estate, work and home, green marketing, choosing color, and so much more.
Additional sponsors include:
TheInteriorityComplex.com
Certified Staging Professionals
Real Estate Staging Association
The Mirror Gallery
Athena Painting (providing environmentally friendly paint options)
EcoJoe (the original Eco Friendly Home Selling Kit)
Thomas Lighting
###