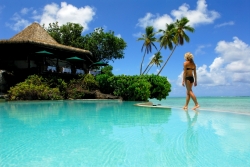 Aitutaki, Cook Islands, July 21, 2009 --(
PR.com
)-- There's positive, upbeat news for the property profession this week as the results of the Asia Pacific Property Awards 2009 in association with CNBC Arabiya have been revealed. Rightly proud of its success, Pacific Resort Aitutaki is delighted to announce that it has won an award in the category of Best Small Hotel Asia Pacific. Winners were invited to attend a high profile gala dinner at the Marina Mandarin in Singapore on July 16th where they were presented with their awards.
The event is part of the International Property Awards, the world's most prestigious competition dedicated to finding the best real estate professionals across the globe. The fact that Pacific Resort Aitutaki has won one of these coveted awards is proof that the Cook Islands is not only able to compete at this level but also triumph within the highly competitive Asia Pacific property arena.
Later this year, top scoring winners from the Asia Pacific Property Awards will compete against other winning companies from Europe, the UK, Europe, the Americas and Arabia to find the ultimate World's Best in each category. Last year, the Asia Pacific region scooped no less than five World's Best awards – an amazing feat and one which the property industry will be watching with interest to see if it can be matched or even beaten in 2009.
Entries were judged by a panel of professionals whose collective knowledge of the property industry is second to none and unsurpassed by any other property awards. Chaired by Eric Pickles, chairman of the Conservative Party, this year's judges included Ben Wood, industry head property markets of Google UK; Peter Bolton King, group chief executive of the National Federation of Property Professionals; Imtiaz Farookhi, chief executive of the National House Building Council; Christopher Hall, president elect of FIABCI; Wilhelm Harnish, Master Builders of Australia (MBA); Thijis Stoffer, International Consortium of Real Estate Agents Association (ICREA); Helen Shield, editor-in-chief of International Homes magazine and Gillian Farr, head of design of Laura Ashley Home.
Greg Stanaway, chief executive officer and group general manager of Pacific Resort, welcomed the award as a testament to Pacific Resort's focus on quality and design, "This is a great honor for us, and reinforcing our path to being recognized internationally as a quality-focused property manager and developer."
###
About Pacific Resort Aitutaki
Secluded Luxury…Like a siren of the Pacific, Aitutaki, Cook Islands, beckons you. This magical place, full of South Seas idyll and romance, is home to Pacific Resort Aitutaki, an enclave of privacy, refinement and luxury, that seduces even the most discerning traveller. Pacific Resort Aitutaki has just 27 luxurious 'absolute beachfront' bungalows, suites and villas all with their own personal, panoramic view of Aitutaki's world-famous lagoon, where every sunset majestically captures the colours of the lagoon and the ocean beyond. And even when your idyllic getaway comes to an end, the seduction doesn't stop. When you return home feeling refreshed and rejuvenated, you'll pause every now and then to revisit your magical memories of the experience that is Aitutaki. Memories of this exclusive, luxurious, romantic sanctuary will hold you in its spell forever. For more information visit
www.pacificresort.com
For further information on Pacific Resort Aitutaki, please contact:
- Australia - Allison Barclay, Revolve Communications on +61 2 8218 2145 or allison@revolvecommunications.com.au
- New Zealand – Melanie Hall, +64 27 418 3857 or melaniehpacificresort@xtra.co.nz
- Rest of the World – Thomas Koteka, +68 2 20427 or koteka@pacificresort.co.ck