Studio's Computer Re-Enactment Paves Way for Settlement, Closure in Tragic Phoenix Helicopter Crash
A computer-generated re-enactment has brought closure to the families of those killed in a 2007 helicopter crash involving two news choppers over Phoenix. The video riveted local residents and helped make a call for change in the news industry.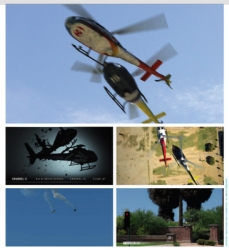 Phoenix, AZ, July 30, 2009 --(
PR.com
)-- Video Provided Photo-Realistic Depiction of How Accident Happened
It was a day that will forever live in the minds of Phoenix residents, when an unthinkable tragedy took the lives of four people who seemed like family members to many in the city.
On July 27, 2007, two television news helicopters crashed into each other while covering a high-speed chase in central Phoenix, killing the crews in both. In the aftermath, it was difficult to determine how something like this could happen -- but necessary to resolve the legal issues surrounding the crash.
That's why Pat McGroder of Gallagher & Kennedy, which represented the victims' families from the Channel 3 helicopter in the case (Bowerbank/Cox vs. US Helicopters, ET AL.), brought in Kitchen Sink Studios to help.
The studio, renowned for its work in graphic design and computer animation, was asked to create a video re-enactment that would clearly show how the incident unfolded. That footage, released on Monday, riveted Arizona residents and helped the families of the victims make the case for change in how news helicopters perform their duties.
The footage was based upon scientific evidence such as radar data, live audio and video from each of the helicopters, as well as physical evidence from the site. It became a chilling representation of what happened -- but a representation that was critical to the settlement of the lawsuit surrounding the crash in favor of the plaintiffs in the case.
The video will serve as an example of how cutting-edge computer animation technology can help resolve even the most complicated legal cases, and perhaps even help bring closure to those affected by such tragedies.
"It was a sad and somewhat difficult assignment for us, but we are proud that we were able to use our resources, skills and technology to bring a resolution to this difficult case," said Nick Hower, Partner in Kitchen Sink Studios. "Our team really dedicated itself to combing through the evidence from the crash and determining just what took place."
Working with expert witnesses, Kitchen Sink was able to develop several different vantage points of the crash, and render those vantage points with stunning realism, including the layout of the ground below and the paths and relative speed of each helicopter.
The computer animation was overwhelmingly compelling, and used throughout the mediation process. The final result was an undisclosed settlement sum for each of the victims' families associated with the News Channel 3 Helicopter.
To view the presentation in its entirety, visit http://kitchensinkstudios.blogspot.com/ or on YouTube at www.youtube.com/user/kitchensinkstudios.
Hower said the use of such technology will likely become increasingly more prominent in important court proceedings so that judges and juries can visualize the information being presented to them.
"The use of computer animation can take situations that are difficult to visualize and comprehend and, if done properly with a focus on science and the evidence, make a huge difference in understanding what really took place," Hower said. "And it can be done in just about any accident scenario with the proper amount of evidence from the scene."
Kitchen Sink Studios is a full service visualization studio. Materials are developed to demonstrate how complex designs will appear when constructed. Using any combination of computer-animation, interactive multimedia CD-ROM/DVD, print materials and web design and audio/video capabilities, the Studio can illustrate any idea from conception to completion. Kitchen Sink Studios specializes in producing sophisticated presentation, sales, and marketing materials that add real value to projects and generate maximum results. For more information, visit www.kitchensinkstudios.com.
Contact: Nick Hower
Partner, Kitchen Sink Studios
602.258.3150
Tom Evans
Public Relations Consultant
602.448.5483
###
Contact
Kitchen Sink Studios
Tom Evans
602-448-5483
www.kitchensinkstudios.com
Public Relations Consultant

Contact
Multimedia
PDF with this press release and a number of still images of the animation, as well as background on the studio.