Texas Research and Investment Obtains Spirit Thinking Process® Series Being Developed by Dr. Reece W. Manley
TRI acquires works of Dr. Reece W. Manley, seeks agents and publishers for predicted 100,000 run on self-help and spirituality platforms.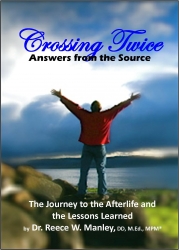 Dallas, TX, July 31, 2009 --(
PR.com
)-- TRI has obtained the copyrights to Dr. Reece Manley, DD, M.Ed., MPM's Crossing Twice:Answers from the Source, Introduction to Spirit Thinking and The Horizons Approach to Helping, three powerful books in the self-help genre.
"What Dr. Manley has done has to take established REBT, a cognitive approach and blended it with the spirituality America is hungry for today," says Rick Setter, president of Texas Research and Investment. "While Dr. Manley will continue this in his private practice at Horizons Counseling (www.myhorizons.org), Spirit Thinking® will bring a series of seminars and books which will greatly benefit more people than can be accommodated through in-person, one on one counseling."
"The first seminar, Mastering Spirit Thinking® will be offered in Dallas, San Diego and New York in 2010. Dr. Manley's has written the basic texts and will be undergoing accreditation through the American Seminar Leaders Association," reports Rick Setter.
TRI is actively seeking literary agents and publishers for representation for the works. Predicted industry publication based on multi-faceted, cross variable predictions show sales of at least 100,000 copies in the self-help and spirituality platforms for 2010.
Persons interested in obtaining more information on Mastering Spirit Thinking or Dr. Manley's original work Crossing Twice: Answers from the Source or his Spirit Thinking® series are asked to contact Rick Setter at 214-329-4145 or visit the Texas Research and Investment home site at www.advocateUSA.net.
Dr. Reece W. Manley, may be contacted at reece@manley.net or 1-800-442-3835 or
www.reecemanley.com
.
###
Contact
Texas Research and Investment
Rick Setter
800-936-0812
http://www.reecemanley.net
For sales informatoin, contact info@advocateusa.net.

Contact