Crossing Twice: Answers from the Source Ready After Full Development Review Agent Inquiries Encouraged Before Opportunity Passes
"Is there a God? What does He look like? What is He about to do?" These are all questions asked by many Americans and answered in Dr. Reece Manley's "Crossing Twice: Answers from the Source" written after his near death experience in 2008.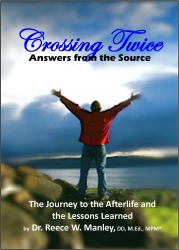 Dallas, TX, August 06, 2009 --(
PR.com
)-- Texas Research and Investment is pleased to announce Dr. Reece W. Manley's work Crossing Twice: Answers from the Source has completed its final development edit by Sarah White, One Man Productions.
Crossing Twice: Answers from the Source is a work about Dr. Reece Manley's near death experience, his time in the Light and his return. "Much more than that, it is the tale of my life and my story. I have been very intimate in the details of my challenges in life," says Dr. Manley. "I feel it not only gives the reader an insight as to what lies beyond this world, but also a practical guide on how to live right here, right now."
"The book is incredible," says Michelle Plyler, a client of Dr. Manley's. "It changed the way I think about the afterlife and has given me a wonderful set of skills to use in this life."
The American Psychological Association has also received a copy of the work per their request. "When someone with 15 years of psychological counseling changes everything they know about the practice of psychotherapy, everyone wants to know why," says Rick Setter, President of TRI. "Dr. Manley actually renounced his state credentials opting for ordination to practice as a professional pastoral counselor."
"It's not something I took lightly," says Dr. Manley. "I could not practice Spirit Thinking® and keep within the state guidelines. I sought ordination through seminary and was ordained in January."
Crossing Twice: Answers from the Source is off to publishers and is being considered for publicatin through Amazon.com's author's Creat Space. "We still would like for a standard agent and publisher to pick up this amazing work," says Rick Setter. He concludes, "The ongoing need for series and seminar books looks to be tremendous. "
Interested parties may visit
www.crossingtwice.com
or write
reece@manley.net
or call 1-800-936-0812.
###
Contact
Texas Research and Investment
Reece Wyman Manley
800-936-0812
www.crossingtwice.com
For information, please email info@advocateusa.net

Contact