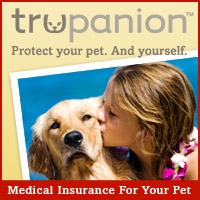 Seattle, WA, August 18, 2009 --(
PR.com
)-- Trupanion, a Seattle based pet health insurance company, now offers pet owners the option to customize their pet insurance policy, giving pet owners the ability to choose a deductible and premium that matches their budget. Many pet owners in the U.S. have expressed strong feelings that pet insurance is expensive or does not have financial benefits. Trupanion aims to change these misconceptions by offering a new innovative and flexible policy. Now policy holders can set custom deductibles and choose optional add-ons including hip dysplasia coverage.
Unlike other
pet insurance
companies, the Trupanion policy does not have claim limits or annual coverage limits. Trupanion addresses common complaints about high deductibles by allowing its customers to choose their own deductibles, starting at $0, and is currently the only company in the industry that offers a $0 deductible. "We believe our customers will find that having the choice to decide the deductible and premium without sacrificing coverage limits or policy benefits will help budget-conscious pet owners avoid difficult and costly pet care predicaments down the road," says Darren DeFeo, Senior Vice President of Trupanion.
In the U.S. a mere 1% of pets are insured compared to about 20% of pets in the U.K. according a study published by Packaged Facts in May 2008. However, the idea of pet health insurance is catching on as a way to manage unforeseen expenses. Packaged Facts predicted annual revenue growth in North America of 25-35% by 2012. Growth in sales will vary by insurance provider, which is ultimately determined by its customer base.
Pet owners mistakenly assume that responsible pet ownership will result in low veterinary costs over the life of the pet. While responsible pet ownership helps minimize veterinary costs, pet owners fail to take into account the high costs of unexpected injuries, illnesses and accidents. According to the APPA National Pet Owners Survey, dog owners spent an average of $453 at the vet on surgical costs alone from 2007-2008. Pet insurance companies typically cover 80-90% of the veterinary bill. At an average cost of $25 for a monthly premium or $300 annually, the "average" dog owner would greatly benefit from pet insurance.
Like any health insurance, pet health insurance will not pay for itself every year. But with Trupanion's customizable plan to fit individual budgets, it can provide peace of mind and significant value when a pet owner is faced with unexpected high costs for their four-legged companion.
About Trupanion
Trupanion pet insurance is available for cats and dogs in the United States. Trupanion is self-underwritten by the American Pet Insurance Company, allowing Trupanion to offer a customizable pet insurance policy with no benefit schedules. Enrolled pets receive $20,000 of lifetime coverage for diagnostic tests, surgeries, and medications if they get sick or are injured with no annual limit. Trupanion's mission is to protect the cherished bond between pets and their families by ensuring that pets are able to receive optimal veterinary care. For more information about Trupanion, call 800-569-7913 or visit
www.TrupanionPetInsurance.com
.
###