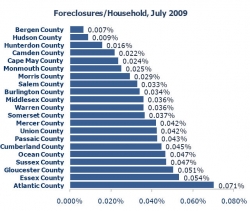 Newark, NJ, August 21, 2009 --(
PR.com
)-- PropertyShark.com, the premier real estate data site, today released its monthly report covering first-time residential foreclosures in New Jersey for July 2009.
Key Report Findings
· There were 1,041 new foreclosures scheduled for auction in New Jersey in July 2009. This is almost equal to June 2009 (1,036) and 6% lower than in July 2008 (1,107).
· Essex County had the highest number of scheduled foreclosures in July 2009, while Atlantic County had the highest foreclosure rate.
o There were 152 new foreclosures in Essex County in July 2009, 96 in Middlesex County, 94 in Ocean County and 79 in Union County.
o Atlantic County had the highest rate of foreclosures per household, with one in every 1,418 homes scheduled for auction in July 2009.
· Newark, Paterson and Trenton were the cities with the most new foreclosures in July 2009. Newark topped the list with 71 new foreclosures, followed by Paterson with 37 new foreclosures, and 34 in Trenton.
The full New Jersey July 2009 Foreclosure Report can be downloaded at www.propertyshark.com/mason/BlogCenter/marketreports.html
In addition to foreclosure listings, PropertyShark.com visitors can view property reports, run sales comparables to assess market values, and browse New Jersey homes for sale. PropertyShark also runs real estate classes in Manhattan through www.PropertySharkUniversity.com.
About PropertyShark: With over 25 million properties in twenty major markets, PropertyShark.com provides real estate professionals and investors with data and tools on all aspects of property, including building details, ownership information, recent sales prices, property values and comparable sales, sophisticated maps, listings, foreclosures and pre-foreclosures, mailing lists, photos, and more, available directly from the web. PropertyShark.com strives to level the playing field by offering independent real estate firms, investors, and savvy consumers the information transparency essential to evaluate real estate and make informed decisions. For more information go to: www.propertyshark.com
###