LawProspector Now Delivers Its Highly Sought After Litigation Intelligence Data Directly to Salesforce.com Accounts
With its new LawProspector Direct Feature, LawProspector Makes its Inter-Linked Database of the 200 Top Law Firms, 100,000 Litigators, 10,000 Clients and 50,000 Active Cases Available to Salesforce.com Accounts Worldwide.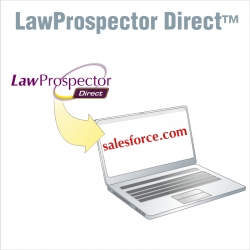 Washington, DC, August 25, 2009 --(
PR.com
)-- To coincide with the start of the International Legal Technology Association (ILTA) 2009 Conference, LawProspector announces the release of LawProspector Direct. With this dramatic enhancement to what is already an industry-changing sales tool, LawProspector has rewritten the playbook for litigation support sales.
Launched in February 2009 for litigation support sales teams and business development teams at major law firms, LawProspector offers an unprecedented view into the current and future litigation activities of the world's top law firms, litigators, corporations and their cases. With LawProspector Direct, that same meticulously researched data may now also be securely viewed in the salesforce.com accounts of sales organizations worldwide, via a confidential one-way pipe.
Never before has there been such near-instantaneous access to critical data about the litigation marketplace. LawProspector subscribers are already using LawProspector to uncover sales leads in minutes that used to take hours, days and months of research. By combining LawProspector and salesforce.com, the world's most popular customer relationship management tool, a business development team is able to:
1. Track all of their litigation-related sales activities in a centralized confidential database that is being constantly updated with new leads in real-time.
2. Prioritize contacting busy litigators or in-house counsel instead of calling on random or stale contacts.
3. Automatically send highly personalized marketing emails to trial teams and in-house counsel triggered by key litigation stage data not available in any other tool.
4. Create unlimited and sophisticated sales alerts prompted by any combination of over 50 factors including attorney name, law firm, court, geography, nature of suit, filing date, or even close of discovery, Markman and trial dates.
5. Automatically deliver sales territory reports, hot lead reports, pipeline reports and stunning data visualizations via dashboards individually customizable for any number of sales reps.
6. Leverage existing relationships, whether documented in salesforce.com or not, to provide introductions to decision makers of newly discovered opportunities revealed by LawProspector.
"When we launched publicly in February, I knew LawProspector was well ahead of any existing product," said Kenneth J. Lopez, LawProspector's Founder. "With LawProspector Direct, we have simply left any competition far behind and created a tool that will grow the sales of any litigation support firm."
With LawProspector Direct and salesforce.com, litigation support salespersons now have all of the data they need to develop more business and the ideal tool to track and motivate small and large sales organizations.
About LawProspector
LawProspector is a firm founded by a group of attorneys working in the litigation support field. The firm developed its LawProspector software-as-a-service (SaaS) product in early 2008 and immediately began signing up subscribers. LawProspector operated in private beta for a year and refined its tool with feedback from current subscribers. Current subscribers include top 100 law firms and litigation support firms with revenues ranging from one million to hundreds of millions of dollars. LawProspector expects its subscriber base to grow from hundreds in 2009 to thousands over the next few years. Subscribers pay a monthly subscription fee that is a fraction of the cost of a single researcher conducting similar research manually.
LawProspector, LLC - All rights reserved. LawProspector™ is a trademark of LawProspector, LLC in the US and/or certain other countries.
Press Contact:
LawProspector
Gabrielle Ballantine
ballantine@lawprospector.com
Press Coordinator
(800) 738–8018 x8
Sales Contacts:
sales@lawprospector.com
(800) 738-8018 x1
http://www.lawprospector.com/
http://www.litigationsupport.com/
http://www.lawfirmselling.com/
###
http://www.youtube.com/lawprospector
http://www.facebook.com/pages/LawProspector/39114147295
Permalink: http://www.LawProspector.com/press/lawprospectordirect-salesforce-launch.html
Contact
LawProspector, LLC
Gabrielle Ballantine
(800) 738–8018
www.lawprospector.com
ballantine@lawprospector.com, 800-738-8018 x8

Contact