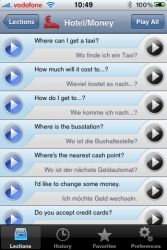 Berlin, Germany, August 28, 2009 --(
PR.com
)-- With "
iSayHello.mobi
," ADMOVI has implemented its latest language courses as applications for iPhone and iPod Touch on the iTunes App Store.
This travel language guide is designed for vacations, but also gives support to all other globetrotters that have only basic knowledge of the local language. Across 10 lessons, all the important topics–from arrival at the airport, customs, hotels, to money and dining out–have corresponding phrases, all of which can be played back if required.
There's even a lesson entitled "Flirt." The clear and understandable learning scenarios allow you not only to communicate spontaneously at your vacation destination, but above all provide quick language acquisition that is relevant to the location and activities. Furthermore, all functions are useable anytime and anywhere without internet access, This makes the Admovi language courses truly mobile, and aids the learning process.
The graphic design and user-friendly functionality are particularly impressive. The travel dictionary is already available in English, Spanish, Portuguese, Italian, French and Polish. Other languages such as Russian and Chinese are planned.
Technical implementation was carried out by the company iheads from Bernau near Berlin. Under license, they have produced 56 interactive travel guides in five languages for the established brands MARCO POLO and FALK. Alongside detailed travel information, the MARCO POLO CityGuides and FALK Guides distinguish themselves with numerous additional functions. For example, a taxi call-up function is integrated into the guide for the iPhone. FALK guides offer, among other things, offline maps without roaming costs, and new tips from the FALK community every hour via RSS feed.
So, simply download the language courses from iSayHello.mobi and the iheads CityGuides from the App Store onto your iPhone, and you'll be able to start your language course and your vacation preparations as late as seated on the plane. When you arrive at your destination, you'll have no problem telling the taxi driver exactly where you need to go.
iSayHello can be found at the Apple App Store on iTunes, or at www.isayhello.mobi.
###