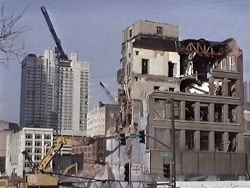 Kansas City, MO, August 28, 2009 --(
PR.com
)-- On the heels of screenings at film festivals in Minnesota, California and Texas; "Begging for Billionaires: The Attack on Property Rights in America" will debut in the Kansas City metro area where much of the film was shot. The once-time, public screening is 5:30 p.m. on Sat., Sept. 19 at the Glenwood Arts Theater, 9575 Metcalf Ave., Overland Park, Kan. Tickets are available on the festival's Web site (www.kansasfilm.com) for $8.
"Kansas Citizens have heard about this project for years, and a lot of them are anxious to finally see it," says Begging for Billionaires director Phil Klein. "We filmed for four years in Kansas City, St. Louis, Sugar Creek and Arnold, Missouri." The Kansas City scenes depict family-owned businesses displaced by the controversial land grabs devised to clear space the Sprint Arena (still without a permanent tenant) and the privately-owned Power & Light District.
The controversial film has received national media coverage including a recent article in the Wall Street Journal. It has been the focus of nationally syndicated radio programs including The G. Gordon Liddy Show and The Alex Jones Radio Show. Media outlets from Minnesota to California have featured the movie.
"The film has been attracting the attention it deserves." Klein says. "Now people here at home will finally get to see what the hubbub is all about." Klein lives in Leawood, Kan., and finances his filmmaking efforts by operating a nationwide magic store retail business. "This is my first documentary," Klein says, "and I'm thrilled with the response. Politicians may not be listening, but the public certainly is. Our elected officials fear an angry and educated public will halt their cavalier land grabs."
Begging for Billionaires debuted in the 'Best of Fest' category at the Minneapolis-St. Paul International Film Festival in May. In June, it won 'Best Documentary' at the Texandance International Film Festival in New Braunfels, Texas. Klein is hopeful the film will earn a week-long run at the Leawood Theater (sister to the Glenwood Arts), a prize the Kansas International Film Festival awards to winning films.
"What happened in downtown Kansas City was a travesty of justice," explains Klein. "With the demise of unbiased local news reporting, I urge the public to come see for themselves what they've always suspected. If this weren't all true, one might imagine this situation is a nightmare. The power of the documentary format is it's more real than any fiction. Eminent domain is the opposite of Robin Hood. It legally enables the rich to steal from the poor," Klein says.
About Begging for Billionaires
Through a mix of guerrilla journalism, expert interviews and the poignant stories of victims, Begging for Billionaires reveals the painful human fallout of the 2005 'Kelo' ruling, in which a sharply divided U.S. Supreme Court gave city governments the authority to take private homes and businesses by eminent domain, and then transfer ownership to developers to build private, profitable non-essentials like shopping centers, corporate office towers, luxury condominiums and professional sports arenas. "In other words, taking private land is not for roads and schools or hospitals anymore," Klein says.
Begging for Billionaires reveals how some elected public officials and their governments brazenly seize property after property from the powerless and transfer ownership to powerful supporters. Meanwhile, everyday citizens watch helplessly as their family histories are bulldozed to smithereens. In some cases, homeowners scramble to save their lives' possessions as demolition crews pulverize the walls around them. In other cases, centuries-old neighborhoods are wiped from existence despite rich histories and beautifully maintained homes and thriving businesses.
Begging for Billionaires begs the question: are we losing sight of the balance between individual property rights and community economic development?
###