Free Concerts in the West End
Free and Live! Are there any better words to hear in the same sentence as concert? West End Association's merchant members have joined together to support the return of free concerts to Dallas' West End. Concerts will take place every Friday night September through October with music ranging from Indie and Classic Rock to Country and Big Band Party. Attendance is expected to top 500 each week.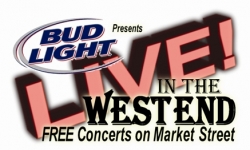 Dallas, TX, September 01, 2009 --(
PR.com
)-- Everyone is looking for economical entertainment and when walking through any mall right now, 80's retro is the fashion. What better way to answer the call for both than reinventing the free concerts and street entertainment that brought the West End to life in the late 80's. Every Friday night September 4, 2009 through October 30, 2009, the West End comes to life with music ranging from classic rock to country to jazz and big band. In addition to the Free concerts, street entertainers (steel drum artists, singers, magicians, balloon artists, unicyclists and many more) perform one-on-one for guests throughout the West End.
LIVE! in the West End
is sponsored by the merchant members of the West End Association. The restaurants, bars and retailers of the West End have come together to revitalize the area as an entertainment destination not only for tourists, but for Dallas area residents too. Participating merchant members of the West End Association are offering special Locals VIP cards to area residents giving our locals special discounts anytime they visit the West End.
Concert Dates:
Friday, September 4, 2009 7:30PM – 10:00PM - Robert Donahue Band
Friday, September 11, 2009 7:30PM – 10:00PM – Retro Nation
Friday, September 18, 2009 7:30PM – 10:00PM – Counterfeit Radio
Friday, September 25, 2009 7:30PM – 10:00PM – Undercover Blues Band
Friday, October 2, 2009 7:30PM – 10:00PM – Prairie View A&M / Grambling State Block Party
Inner City All-Stars and In The Mix
Friday, October 9, 2009 7:30PM – 10:00PM - Chameleon
Saturday, October 17, 2009 5:00PM – 11:00PM (Red River After Party)
Brandon Bush Band
Robbie Saunders and the 32-20's
Inner Frequency
Friday, October 23, 2009 7:30PM – 10:00PM – Vital Signs
Friday, October 30, 2009 6:00PM – 11:00PM - (Halloween Block Party)
Codger
Model Citizen
Costume Contest
Trick-or-Treating the Patios of the West End
About The West End
The West End has once again become the entertainment destination of choice for locals and tourists alike. This resurgence into the Dallas spotlight is due to our award winning restaurants, specialty retail shops, increasing nightlife and street festivals, attractions such as the Dallas World Aquarium, Sixth Floor Museum, Dallas Holocaust Museum, Dallas Segway Tours and our historic carriage rides. The restaurants and attractions of the West End offer entertainment alternatives to a broad range of appetites, interests and budgets. For more information, please visit www.dallaswestend.org.
###
Contact
West End Association
Michelle Chennault
817-715-4787
www.dallaswestend.org
Bob Allen
469-964-6983

Contact