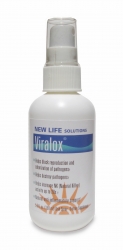 Sedona, AZ, October 05, 2009 --(
PR.com
)-- To prove Viralox®, from Sovereign Laboratories, effectiveness clinical trials were completed on late stage HIV patients. The results have been impressive, with normal level CD4 counts and elimination of viral load in blood samples in all the participants that remained compliant with protocols.
Viralox® active ingredient Lactopeptide™ is a proprietary all natural combination of Poly-rich Proline peptides and Lactoferrin peptides found in colostrum. Colostrum is the only source of these critical components that have additionally proven to be more than three times as effective as flu vaccines. This unique bioactive combination in peptide form transmits readily to the blood stream via a simple oral delivery and is available for all ages.
Lactopeptide function provides a unique combination of benefits:
1. It activates and enhances NK (natural killer) cell activity. NK cells in our immune system are responsible for the removal of infected and abnormal cells. With Viralox NK cells increase their ability from 10-12 affected cells to 220-240 each. Over a 1,000 % increase.
2. A true immune modulator. It acts to balance immune function. Regulating cytokine production to normalize inflammatory response depending upon the situation. It can down regulate an overactive immune response and up regulate an underesponsive process.
3. It promotes T-lymphocyte production stimulating them to become either helper T-cells or suppressor T-cells.
4. Produces immunity to virus. It helps Helper T-cells promotes the growth and activation of B-lymphocytes that produce antibodies to any virus or other pathogen present.
5. It activates memory cells to shorten response if additional attacks occur.
6. It stimulates the production of tumor necrosis factor-alpha (TNF-A) and Interferon gamma (INF-y).
7. Promotes proliferation of Leucocytes (white blood cells)
8. Effective against viruses know to have caused auto-immune disease.
9. Clinically proven to increase T-cell count to normal or near normal in AIDS
10. May help stop the cytokine storm as seen in Avian (Bird Flu) virus.
11. Has blocking mechanisms that attach to binding sites preventing infection and stopping viral replication.
12. Effective against a wide range of Virus including HIV, Rotavirus, Epstein Bar Cytomegalovirus, Herpes, Hepatitis B and C, Hantavirus, colds and flu.
13. Viruses cannot mutate to become immune to the mechanisms of Viralox.
14. Effective against a broad range of other pathogens: bacterial, yeast, and fungal.
In conclusion, Viralox® with Lactopeptide™ provides the unique support needed to survive viral and other infections for which there is no other effective defense. It helps the body heal itself by supporting its own natural defenses. The effectiveness of its compounds has been proven in hundreds of clinical and scientific studies published in peer reviewed journals. What is more, it is an entirely safe natural product for all ages, with no know side effects and available in an easy to use spray that even children can use. Pharmaceutical anti-virals on the other hand, often have severe side effects and limited effectiveness, if they are available at all. Using Viralox® in a spray enables rapid absorption and is more effective and lower in cost compared to pharmaceutical alternatives.
For a complete scientific review with clinical references go to
www.viralox.com
Comments and question should be sent to dwyatt@sovereignlaboratories.com
###