Author and Execution Coach, Anna McCoy to Host Woman Act Now Connect-Working Meeting in DFW Metroplex
Woman Act Now is a movement of execution by women nationally and internationally who want to learn the art of getting life done. Coach Anna McCoy, Chief Encouragement Officer of Woman Act Now, an online and chapter-based organization is hosting a Woman, Act Now Connect-Working Monthly Meeting, September 25, 2009, at 6:30 PM at the estate of Anna and Richmond McCoy. Coach Anna will teach on "Closing the Execution Gap" from her newest book release, Woman, Act Now.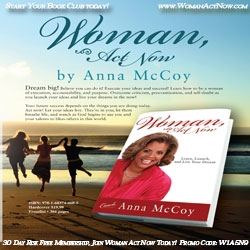 Fort Worth, TX, September 23, 2009 --(
PR.com
)-- "Woman Act Now is about accountability with others because the emphasis is on connect-working which consist of five simple principles, The Giving Mentality, Marketplace Space for You and Me, Be Your Authentic Self, Listen with Intention, and Connect Others with Your Resources," says, Anna McCoy, Author and Founder of Woman Act Now and affectionately known as the world's execution coach.
The WAN monthly meetings are designed to equip women to move forward on their dreams through teaching, connect-working with other womenThinkers as well as showcasing member businesses.
"The monthly Woman Act Now meetings have become my official girls' night out, and Coach Anna provides a positive and warm environment for sisterhood, promoting accountability and empowerment" – Leslie Denman commented.
The monthly Woman Act Now meetings are a treasure. It is a great group of women with diverse backgrounds who are eager and willing to sit at the feet of wisdom to learn and gain from Anna. You will have fun, you will learn, and you will walk away with something you can use in your personal life, as well as in your business. – Carla Freeman commented.
Woman Act Now Connect-Working Meeting is open to the public. Registration is required. The cost to attend is $17.50 for WAN members and $25.00 for non-members, register at www.womanactnow.com or call 877-751-5700.
About Coach Anna McCoy:
Coach Anna McCoy recently voted as one of Empowering Everyday Women Top Ten Women Power Brokers and Emerging Leaders to Watch is a seasoned executive and certified business and life coach with more than twenty years' of experience in sales, marketing and operations management. She is the Chief Encouragement Officer of Act Now, Inc., a personal development and success training organization and founder of Woman Act Now, an online, chapter-based membership organization dedicated to empowering women to dream, believe, execute, and connect with other like-minded women to achieve their goals in the now. Coach Anna and her husband, Richmond McCoy, are founding partners of UrbanAmerica, a multibillion-dollar, private real estate fund in New York. She has authored books, entitled Building Generational Wealth and Woman, Act Now.
About Woman Act Now:
The mission of Woman Act Now is to educate, empower and enrich the lives of women globally and locally by promoting character, integrity and leadership in the marketplace, family, community and personal life aspects. Through the use of online technology and chapter-based organizations, WAN has established relationships with members nationally in thirty-two states and in four international countries and has funded women owned businesses in developing nations to build sustainable revenue opportunities to support their family and community.
###
Contact
Act Now, Inc.
Anna McCoy
877-751-5700
womanactnow.com

Contact