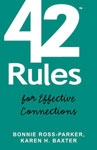 Cupertino, CA, October 12, 2009 --(
PR.com
)-- With more and more Americans out of work, networking is becoming as ever more popular. Networking communities, online social networks and informal leads groups are springing up all over the country. However, author Bonnie Ross-Parker says "there is a difference between networking that is 'hit or miss'—'trial and error' versus networking that hits the bull's eye," in her new book '42 Rules for Effective Connections."
Ross-Parker will be featured in a free 30-minute webcast on Oct. 20 at 10:00 am PT. To register for the webcast, please visit
http://42rules.com/bonnierossparker/webcast/
"42 Rules for Effective Connections' is not just an idle suggestion when coming from Bonnie Ross-Parker," said Mary K. Weinhagen, editor of The NetworkMarketingMagazine website. "After experiencing the passionate and authentic 'voice' of contributing writers you'll quickly see that what they provide are the concise, practical steps to truly experiencing the joy of connecting with others and getting better results Today!"
"I've often said it's who you know that gets you in the door, and what you know that keeps you there," said Marnie Pehrson, CEO/Founder of IdeaMarketers.com. '42 Rules for Effective Connections' is about both of these—building meaningful connections that open doors, and sharing yourself with integrity so that you sustain lasting relationships. It's a great book to read cover to cover or to just pick up when you have a moment or two. One idea could change your life."
"Bonnie and her team of contributors have written the manual for networking today," says Laura Lowell, founder and executive editor of 42 Rules. "These women are successful, independent business-people who know what it takes to build and grow a business. We're lucky they decided to write it down."
The book is available from http://www.42rules.com/bonnierossparker.
About the Author
Bonnie Ross-Parker, a.k.a. "America's Connection Diva", is a multi-dimensional businesswomen/entrepreneur with a background in education, franchise development, publishing, mentorship, network marketing, and community development. She combines vision with a unique set of skills. Formerly the Associate Publisher of The Gazette Newspaper/Atlanta, she focuses her energies on supporting women. Bonnie is a graduate of George Washington University, & earned a Certification in Network Marketing at the University of Illinois. Several of her articles on owning one's own business and entrepreneurship have appeared in publications including: Wealth Building, Home Business Magazine, Business to Business and Entrepreneur's Business Start-Ups.
About 42 Rules ™ and Super Star Press
Super Star Press, a division of Happy About®, was founded to help independent professionals establish themselves as experts in their field through writing, publishing and marketing books. The 42 Rules ™ book series delivers wisdom in the form of compact, high-impact books on personal and professional growth. To learn more visit http://superstarpress.com/about_us.html.
###