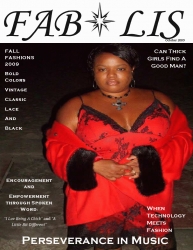 Jacksonville, FL, October 08, 2009 --(
PR.com
)-- When owner Nyota Grant of FABLIS (For A Beauty Living In Style) embarked on opening her first boutique a year ago; she never thought she would be hosting a Fashion Show for children infected or affected by HIV or AIDS with an International Designer as a sponsor.
FAB*LIS became a boutique known for its classy but sassy décor and affordable pricing for women sizes XL-3XL. Transitioning from a boutique to a magazine for "thick women" and online store, the confidence of FAB*LIS' customers has created a stir. Known for their VIP parties and FAB*LIS Fashion Shows, a local organization trusts FAB*LIS can provide them with the funds needed for Christmas gifts for children infected or affected by HIV or AIDS.
In such a short amount of time, FAB*LIS has created a relationship with designers to gain support from designer Sarah Morgan of eenamaria as a sponsor for the FAB*LIS Fashion Show on November 7, 2009 at the New Aloft Hotel in Jacksonville, FL. The eenamaria collection is available in Allders Department Store in the United Kingdom, Guggenheim in Berlin, and now in Puerto Rico. While the international recognition of this designer is growing, they haven't forgotten the importance of giving to such an important cause.
Nyota: "HIV and AIDS affects so many people, when you can present a great show for a good cause it can only be FAB*LIS." A portion of the proceeds from the FAB*LIS Fashion Show will be donated to Holiday Helpers, a local organization in the Jacksonville, FL area.
###