Top Ranked Spirituality Expert Garners Book of the Year Award in Crossing Twice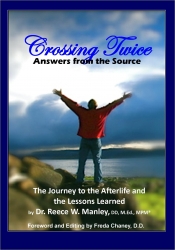 Addison, TX, October 09, 2009 --(
PR.com
)-- Dr. Reece W. Manley, DD, M.Ed., MPM has gained another honor for his work as a spirituality expert. Rolex Gold sponsored Instamation News Network has named Crossing Twice: Answers from the Source as the Christian/Spirituality Book of the Year. Instamation provides in network information to a premium group of news outlets.
Crossing Twice: Answers from the Source has been named Book of the Year in the Christian/Spirituality Category. The work recounts Dr. Manley's near death experience, his Crossing into heaven and his return with a message of hope, love and inclusion. "I'm humbled," says the spirituality expert and new to the genre author, Reece Manley. "But not surprised. Crossing Twice: Answers from the Source recounts my death experience as accurately as I could portray it. The power, love, peace and acceptance that awaits us all is awe-inspiring."
Reece also gained the official recognition of being the Google Top Ranked Spirituality Expert. "Two embraces in one day!" says Dr. Manley. "I'm kind of blown away by that, but, very, very grateful. Now, everyone needs to go out and buy the book, or, better yet check it out on Amazon by searching Reece Manley or visiting
www.SpiritThinking.net
!"
Spirit Thinking is the official website of Dr. Reece W. Manley, DD, M.Ed., MPM. Both of the books are available at that site as well as an incredibly generous offer of donating $1.00 per subscriber to Feed the Children for each person who signs up on the "Subscribe" page.
###
Contact
Advocate USA
Reece Manley
800-936-0812
http://www.CrossingTwice.com
Author direct at reece@manley.net.

Contact
Multimedia
As of October 8, 2009, Dr. Manley's work shows up as the most searched spirituality expert in the Google sites.