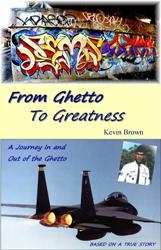 Atlanta, GA, October 16, 2009 --(
PR.com
)-- Author Kevin "Coach" Brown's novel From Ghetto to Greatness is a masterpiece of storytelling that grabs young readers' attention from the very beginning. Once they are pulled into the protagonist's Jerome Brown's world, they are whisked away with him through many previously unglamorized ghetto situations including teenage drug addiction. It's these nuances that make the plot fresh and interesting; as opposed to the trite storyline of "I sold drugs, I was in a gang, I went to jail, and now I want to save the world." The result of this brand new approach to urban youth literature is a book that is positively changing attitudes and actions of troubled teens throughout the country. Entertainers like Common agree that we have to take responsibility as a culture to end the violence.
As a practicing Life Coach, Youth Sunday School Teacher and community volunteer, Brown saw a strong need to communicate with teens at their level. Somehow he was able to reach back over 30 years to recount details of his attitude and thoughts in conjunction with his experiences of growing up in Long Beach inside a tumultuous home environment. Brown encapsulated all this onto 214 pages that have an emotional rollercoaster effect on the reader. Suspense, humor, sorrow, and eventually triumph are blended to make the reader feel as though they have been taken back in time to when Lionel Richie was still with The Commodores and Cuba Gooding Sr. was the only star in his family.
Brown is working to be picked up by a major publisher that will get the book distributed in all the major retail outlets. He pictures himself sitting on the top talk show host's couch while she asked him tough questions about the unbelievable stories in the book. He believes the host will want to know how his book managed to change so many young folks' lives for the better. For now, those interested in getting a copy of From Ghetto to Greatness will have to catch up with the Brown at one of his book signing in Atlanta or get it on Amazon.com.
For additional information on Kevin "Coach" Brown or to obtain a press copy of From Ghetto to Greatness, contact Kevin Brown or visit www.kevinthelifecoach.com. From Ghetto to Greatness is available on Amazon.com. ISBN: 978-0-578-04086-8
About Brown Publishing & Seminars:
Brown Publishing & Seminars provides life coaching services to athletes and the general public. Brown Publishing & Seminars also conducts Call to Greatness seminars and keynote speeches.
Contact:
Kevin Brown, Author/Life Coach/Motivational Speaker
Brown Publishing & Seminars
Call: (678) 636-9755 Email: kevin@kevinthelifecoach.com
www.kevinthelifecoach.com
###