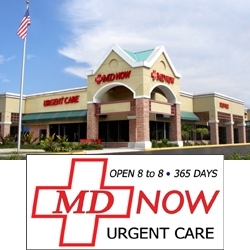 West Palm Beach, FL, October 16, 2009 --(
PR.com
)-- As one of the largest providers of urgent care walk-in medical services in South Florida,
MD Now Urgent Care Centers
is traditionally one of the first doctor's offices to receive the flu vaccine in Palm Beach County. Today, MD Now Urgent Care's staff began administering limited supplies of the H1N1 nasal flu spray vaccine to local residents.
Peter Lamelas, MD, the owner and CEO of MD Now Urgent Care Centers, is a former ER doctor and Emergency Department Director for over seventeen years. He agrees with the U.S. Centers for Disease Control in Atlanta that this year could be the worst flu season the nation has seen in recent history.
"We have been seeing cases of Influenza A sporadically all summer," says Lamelas. "Unfortunately, about 90% of these cases were the novel H1N1 influenza virus known as Swine Flu. The nasal spray vaccine is now available in all MD Now Urgent Care Centers and the injectable vaccine is expected to arrive sometime next week. The H1N1 vaccine is meant to protect against the 2009 H1N1 influenza, however it will not prevent seasonal flu."
The CDC is recommending you get both the seasonal influenza vaccination, if you want protection from the seasonal flu and H1N1 or swine flu vaccination to prevent the swine flu.
"That's because this year", says Lamelas, "the CDC expects flu activity to rise ahead of the regular flu period and affect more people than a typical flu season. It's a serious situation. While the average seasonal flu generally affects and causes the most deaths among the elderly population, the swine flu has been affecting children and young adults most severely."
According to the CDC, the seasonal flu typically causes about 36,000 death and 200,000 hospitalizations every year, mostly among older adults and high risk groups. On Monday, the White House released a report that included estimates that another 30,000 to 90,000 people could die from the swine flu this season, about twice the number of people who typically die from seasonal flu, because people lack immunity to the swine flu virus. Early estimates from the President's Council of Advisors on Science and Technology predict swine flu may infect half the U.S. population and hospitalize 1.8 million patients.
Who should get the H1N1 Vaccine and which type of vaccine the nasal spray or the shot?
The H1N1 Live Attenuated/ Nasal Spray vaccine is approved for people from 2 through 49 years of age who, are not pregnant, do not have certain health conditions, such as heart or lung disease, asthma, kidney or liver disease, diabetes, anemia and other blood disorders and basically are healthy people who do not come into constant direct contact with other who have a weaken immune system. The H1N1 Inactivated/ Injectable vaccine is for all others.
Groups recommended to immediately receive any of the two types of 2009 H1N1 Live Vaccines and are;
· Are from 2 through 24 years of age
· Are from 25 through 49 years of age and
o Live with or care for infants younger than 6 months of age, or
o Are health care or emergency medical personnel
Here are three steps that Dr Lamelas says you can take to reduce or prevent you and your loved ones from the adverse effects of the flu this season:
Step # 1 – Take the time to get vaccinated. The single best way to protect yourself and others against influenza is to get a flu vaccination each year.
Step #2 – Take everyday preventative precautions.
Wash your hands regularly and frequently with soap and water. Use alcohol based hand sanitizers which are effective in reducing the spread of germs. Use disinfectants to routinely clean frequently touched surfaces, like doorknobs, keyboards and telephones. Avoid touching your eyes, nose or mouth places where the flu virus enters the body.
Step #3 – See your doctor, take anti-viral drugs and or antibiotics, if recommended. Antiviral drugs are not sold over-the-counter and are different from antibiotics. If you get the flu, see a doctor quickly and if recommended take antiviral drugs which can make your illness milder and make you feel better faster. Antiviral drugs work best if started within the first 2 days of symptoms. They may also prevent serious flu complications. If you have the flu and are not improving or getting worse, see your doctor and ask about other complications, such as bronchitis and pneumonia which may require antibiotics and further treatment.
For current updates on influenza and their flu vaccine status, check their website
http://www.MyMDNow.com/flu
frequently for current updates.
About MD Now Urgent Care
MD Now Urgent Care Centers is one of the largest providers of urgent care walk-in and occupational medical services in South Florida. MD Now currently has six locations throughout Palm Beach County, in West Palm Beach, Palm Beach Gardens, Lake Worth, Royal Palm Beach, Boynton Beach and Boca Raton, with plans to open two more locations next year. Owned and managed personally by Peter Lamelas, MD, MBA, FACEP the facilities are beautiful comprehensive full service urgent care centers and provide a wide spectrum of services, including occupational medicine, drug and DNA testing, school physicals, work physicals, tetanus shots, flu testing, flu treatments, digital X-rays, onsite lab work, confidential STD testing, car accident and on the job injury medical care.
MD Now's Urgent Care Centers provide a cost-effect alternative to the emergency room and a more convenient option than waiting for a doctor's appointment. Each location is open 365 days a year from 8:00am to 8:00pm, including weekends and holidays. At MD Now Urgent Care Centers, patients are seen, treated and released quickly, most in less than an hour. All major insurance is accepted and no appointment is necessary. MD Now Urgent Care, on the web at www.MyMDNow.com, is certified by the Urgent Care Association of America.
###