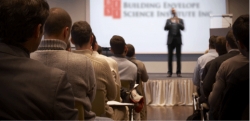 Gainesville, FL, October 20, 2009 --(
PR.com
)-- U S Building Consultants, Inc. will be assisting in the National Training and Certification Program on Chinese and Defective Drywall in America created by the Building Envelope Science Institute (BESI) for Inspectors, Project Managers, Consultants and Remediators on October 25 – 27, 2009 at the Hyatt Regency Orlando International Airport Hotel Orlando, Florida. The training program will offer certifications for the title designation of Certified Defective Drywall Inspector (CDDI), Certified Defective Drywall Consultant (CDDC) and Certified Defective Drywall Remediator (CDDR).
Registration starts on Sunday, October 25th from 3PM to 8PM with a reception and networking from 6PM to 8PM. There is an "Open to the Public" forum (Free and no registration required) on Sunday, October 25th from 4-6 PM. The forum consists of a panel comprised of 15 top experts, allowing homeowners to get their questions answered on defective Chinese drywall, its effects to property values and health concerns. The panel's primary purpose is updating homeowners on the current events related to defective Chinese drywall. The panel discussion will take place in the 10,000 SF Intercontinental Ballroom at the Hyatt Regency – Orlando International Airport.
Monday, October 26th consists of the welcome, guest speaker, background information, case histories, inspection protocols: how to inspect (mock-ups), equipment, inspection reporting & peer review process, mock-up training, remediation needs for homes, and estimating costs.
Tuesday, October 27th consists of contracts and legal issues, job start-up: the initial meeting, protocol for removal and storage of personal belongings, LEED & Energy Certification, procedures including Forced Thermal Desorption, chemical application, reconstruction, decontamination of personal belongings, filters, and proposed national warranty. The full itinerary can be found at
www.BESInstitute.com
.
Participants are required to pass an examination prior to receiving their designation. The participants that receive certification will be posted on the BESI's website; owners or builders with defective drywall can locate Certified Defective Drywall Inspectors, Project Managers, Consultants and Remediators that have the proven knowledge, tools and skills to properly remediate homes or buildings through a cost effective certified protocol.
For more information visit www.besinstitute.org. To learn more about Spiderman Mulholland and USBCI, go to www.usbcinc.com, or to arrange an interview, contact annie@usbcinc.com.
###