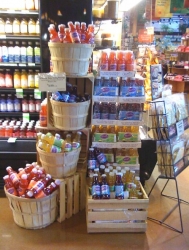 Charlotte, NC, October 20, 2009 --(
PR.com
)-- Simplifast, the world's first ready-to-drink lemon detox beverage, expands reach into all 16 Earth Fare stores in North Carolina, South Carolina, Tennessee. Simplifast has reinvented a healthier and more palatable Master Cleanse Diet (aka the Lemonade Diet) by adding important nutrients, high fiber and adding a delicious and satisfying all natural flavor profile, which other products lack. The lemonade diet concept has helped many people including high profile celebrities lose weight and kick start their lives into healthier living.
"We value our partnership with Earth Fare and are excited to see Simplifast having a positive impact on the lives of their consumers," says Dianna Toomey, Simplifast Founder and CEO. "Our health-focused mission and message is growing both online and at retail. We are fully committed to enriching people's lives through better health and proper weight management."
Earth Fare continues as a leader in the grocery industry, providing the best tasting local, natural and organic foods available without compromising its commitment to natural integrity. One of the first supermarket chains to completely eliminate added trans fats in the form of partially hydrogenated oils from its foods, Earth Fare continues to set the pace for natural retailing by not selling sucralose (the sweetener now known as Splenda) and by becoming the first supermarket to eliminate High Fructose Corn Syrup from its shelves.
"I am just writing to thank you for your lemon cleanse product," comments an Earth Fare Markets customer. "I couldn't believe how great I felt this morning. I suffer from sleep apnea and almost have to drink a pot of coffee to stay up during the day. I woke up feeling refreshed and was 15 minutes early for work instead of my normal 5 minutes early. That is a big deal for me! It is usually a struggle for me to get going in the mornings."
The Earth Fare customer adds, "I feel great and have more energy than usual. All of the lemon cleanse flavors are delicious and I am so glad that they do not contain artificial sweeteners because I am not able to consume other products because they make me very dizzy and nauseous. Thanks again for a great product!"
About SIMPLIFAST®
Simplifast is the world's first all natural, ready-to-drink fasting diet beverage based on the lemonade diet concept. It contains 11g fiber and all the vitamins, antioxidants, electrolytes necessary to support the body and promote detoxification during a fasting diet. Designed for one, three and seven-day fasting diets, Simplifast is also a great alternative to sugary sports drinks, caffeinated energy drinks and unhealthy snacks and beverages. Simplifast is packaged in 16-ounce bottles and comes in three flavors including Lemon, Strawberry and Blueberry. Visit us online at www.simplifast.com, and also available at Amazon.com, and in leading specialty supermarkets and supplement shops throughout the U.S and Internationally. For more information visit www.simplifast.com. Twitter, www.twitter.com/simplifast.
###