Twitter, eBay, BlogHer & Mashable Experts Reveal Secrets of Success in New Book "42 Rules of Social Media for Small Business"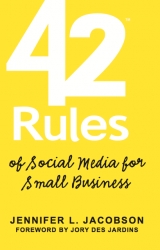 Cupertino, CA, October 21, 2009 --(
PR.com
)-- The 42 Rules book series today announces, its newest title; '
42 Rules of Social Media for Small Business
' (http://42rules.com/jenniferjacobson/books/) by Jennifer L. Jacobson, which is filled with advice from small businesses across the country as well as professionals out of Twitter, Mashable, BlogHer, and eBay.
Written by Silicon Valley communications professional Jennifer L. Jacobson 42 Rules of Social Media for Small Business is a practical guidebook for small business entrepreneurs looking to grow their business and connect with customers through social media platforms like Twitter, FaceBook, LinkedIn, MySpace, and Yelp.
"Having a great social media presence today is as important as being listed in the phone book was ten years ago," says Jacobson. "Customers today are looking for goods and services online and moving away from traditional print directories. Yet, while most small business owners know the importance of a warm handshake and a smile, it's easy to get confused about how to use Twitter or Facebook to generate business. My book gives people 42 simple guidelines to help them establish their business."
"Small business owners often ask me why they should get involved in social media," Jacobson continues. "I tell them; if your customers aren't already on FaceBook and Twitter, they will be soon, and you'll want to be there to represent your business. Social media is a two-way communication platform that's here to stay, and the businesses that learn to use it now, will stand out from the competition and position themselves for success."
Praise for 42 Rules of Social Media for Small Business:
"If you're a small business looking to implement a social media strategy, consider Jennifer Jacobson's '42 Rules of Social Media for Small Business' as your bible.
Marlene Gavens, Owner, The Savvy Seller
"Jennifer Jacobson shows how easy it is to step into the virtual cocktail party of social media with her '42 Rules of Social Media for Small Business.' This book comes at a perfect time when business owners are discovering that conversations are being had about them online."
Dave Saunders, http://www.davesaunders.net
"A solid perspective—based on over a decade of history, clear writing, and tons of real-world examples—makes '42 Rules of Social Media for Small Business' a strong introduction for marketers and entrepreneurs looking to grow their business through social media."
Shel Horowitz, Social Media Consultant http://www.frugalmarketing.com
About the Author
Jennifer L. Jacobson is a Silicon Valley based communicator with over a decade of experience in media, strategic outreach, and public relations. Jennifer is currently the Director of Public Relations for http://www.retrevo.com and the founder of Jacobson Communication. Jennifer has helped many companies grow their outreach efforts including, companies including LookSmart Ltd., PNN.com, MarketCulture, Impact Marketing, and MerchantCircle. Jennifer has a Masters Degree in Broadcast Communications and enjoys creating new media projects in her spare time.
About 42 Rules ™ and Super Star Press
Super Star Press, a division of Happy About®, was founded to help independent professionals establish themselves as experts in their field through writing, publishing and marketing books. The 42 Rules ™ book series delivers wisdom in the form of compact, high-impact books on personal and professional growth. To learn more visit http://superstarpress.com/about_us.html.
Contact
42 Rules
www.42rules.com