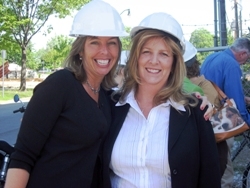 Champaign, IL, November 04, 2009 --(
PR.com
)-- Marquette Management Inc. hosts grand opening of Burnham 310, a 654 bed state of the art student housing tower in Champaign Illinois.
Burnham 310
www.burnham310.com
is the cornerstone of the new redevelopment area in Champaign that bridges campus town with downtown Champaign. The new area, named the Burnham District, is anchored by the new tower which stands on the former site of the Julia F. Burnham hospital. Burnham 310 is completely modern and features campus town's only grocery store, state of the art student apartments, parking, and commercial space.
Champaign Illinois October 22, 2009: In attendance:
Bruce Knight and his team from the City of Champaign's Planning Department
www.ci.champaign.il.us
Jeff Peschut, Bruce Morrison, Dave Bara and John Spelke of ING Clarion the asset management firm for the building owners.
www.ingclarion.com
Jeff Pickus of Pickus Construction the developer of the building.
www.pickus.com
Mary Herrold and Tami Burke of Marquette Management Marketing Coordinator and Business Developer for
Marquette Management's
student housing division
Property Manager Theresa Kamerer, and the staff of
Burnham 310
.
75 guests including dignitaries, local chamber of commerce members, vendors associated with the project, and affiliates of the University of Illinois attended the ribbon cutting ceremony performed by two city council members. Those in attendance celebrated the opening of the newest and most anticipated building in the city. In addition to the ribbon cutting ceremony, the program included live entertainment, food, open bar, property tours, the unveiling of the new
Community Life program
and a drawing for a highly sought after kindle.
For more information on Burnham 310 Apartments, visit the websiteor call (217) 239-2310.
For Information about Marquette Management Inc, contact Mary Herrold.
Contact: Mary Herrold 815-588-6000
mherrold@marqnet.com
www.marqnet.com
###