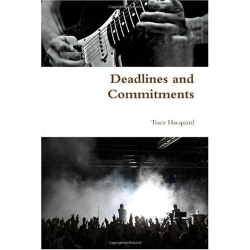 Athens, OH, November 10, 2009 --(
PR.com
)-- Ohio University doctorate student Louis "Trace" Hacquard has written his first book titled "Deadlines and Commitments." The book takes a behind the scenes look at the direction of rock music.
Hacquard, an English teacher at Logan High School in Logan, Ohio, traveled across America for a summer in search of the next great bands that will impact the future of rock music. Hacquard attended concerts, camped at festivals, interviewed roadies and fans, and searched through museums to find the answer to his ultimate question: is rock and roll dead?
Inspired by great writers such as Jack Kerouac and Hunter S. Thompson, Hacquard believes that the most effective way to find the story is to be directly involved. Hacquard wants his writing career, also known as TrAmerica, to represent the "new" journalism that sparked a fresh outlook on how a story could be written. In "Deadlines and Commitments," no details of the rock and roll adventures are left out.
"Writing this book was more than just a search for music. It was a way of answering many of the questions that keep us wondering if we are doing as much with our lives as we can. Life is full of commitments, but thank God for rock and roll," Hacquard said.
Hacquard has lived in Southeastern Ohio all of his life. He is a graduate of the University of Rio Grande (2001) and earned a master's degree from Ohio University's E.W. Scripps School of Journalism in 2008.
"Deadlines and Commitments" is available at BarnesandNoble.com, Lulu.com, and Amazon.com. It is also available to download on the Amazon Kindle.
###