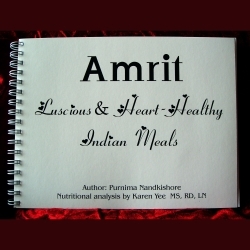 Los Gatos, CA, November 15, 2009 --(
PR.com
)-- News Facts
• Amrit: Luscious & Heart-Healthy Indian Meals, this is the first MediterrAsian cookbook published by Sugandhi (Los Gatos, CA). The 58 master recipes in the book combine ingredients and cooking methods from two ancient cuisine cultures: Indian and Greek.
• Each recipe in Amrit, introduces the reader to ingredients that are proven by scientific research to help prevent or control heart disease.
• Recipe nutritional analysis has been conducted by a registered dietitian who was on the team of two leading heart disease studies (DASH & OmniHeart).
• 92% of the US population is now at a high risk for developing heart disease. More than 1 in 3 (80 million) U.S. adults currently lives with one or more types of cardiovascular disease.
• Medical literature suggests that at least 80% of premature deaths from heart disease and stroke could be avoided through healthy diet, regular physical activity and avoiding tobacco smoke.
• Number of Pages: 216; Binding: Wire-o binding, Size: 11" wide, 8.5" high
• Paperback, Alkaline paper Number of illustrations: 121; Price: $24.99; ISBN: 978-0-615-27062-3
Purnima Nandkishore was inspired to write Amrit when she saw how the food she was cooking helped her husband lower his heart disease risk factor numbers. She has designed each recipe in this book to be pleasing to both the eye and the palate, and simultaneously, to give the reader information about health benefits of unique food ingredients from distinct regions of the world.
"At a time when people feel they must give up good flavors to be able to dine healthfully, Ms. Purnima Nandkishore has authored a book of recipes that will delight those looking for exotic tastes and creative, well-documented recipes." Boyd Lyles, Jr. MD, Director, HeartHealth and Wellness Center, Dallas, TX
###