SportsDigger.com Debuts New Online Social Networking Community Connects Sports Fans, Teams and Athletes
SportsDigger.com is a new social networking community for sports fans, teams, and athletes. Instantly create your free online sports fan profile to connect with other sports fans and your friends. If you belong to a team, you can now instantly create your free online team profile to interact with your team fans and groupies.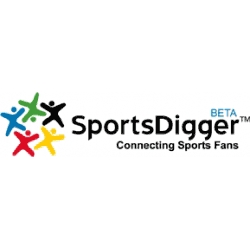 San Jose, CA, October 05, 2006 --(
PR.com
)-- New site SportsDigger.com is quickly gaining a following among sports fans and even teams. The site lets anyone create their own fan page and teams create team pages, complete with photos, videos, and personal information. Additionally, SportsDigger.com gives members a variety of ways to contact each other, all in the quest to help everyone become friends with everyone else in the online sporting community.
"Our dream with SportsDigger.com is to make the world a better place, one sports fan at a time," says site creator Jason Hu. "People who normally don't get along - even countries at war - become friends at a sports event. Sports is a source of enjoyment and human endeavor that brings out the best in all of us," Hu said.
Teams can create a center where everyone involved with the team from coaches to the person who watched the team for the first time on TV last night can gather to learn, meet, celebrate, and discuss. This online Team Profile page can be created in less than one minute using SportsDigger.com's advanced yet easy-to-use features.
If a member belongs to a team for their school, company, organization, or just with their friends, the member can now easily have an online team page for their team.
"Teams can then use their team profile to connect and interact with its fans. Our initial research showed this is one of the most compelling features and competitive advantages here at SportsDigger.com," Hu said.
SportsDigger.com works hard to connect like-minded sports fans. Even in the Internet age, it is still difficult for people who like the same teams or sports to connect and interact.
"For instance, have you ever gone to a ball game and wondered who was that beautiful woman you met? Or, let's say that you're a 49ers fan living in Texas. It might be difficult for you to find other 49ers fans in the Cowboys State," Hu pointed out.
Among many other things, SportsDigger.com has helped season tickets holders for one team locate and communicate with other season ticket holders. This lets a team's most enthusiastic and regular fans become friends with people who share their love of the team.
SportsDigger.com is 100% free and open to anyone with an interest in sports. Get more details and join the online community connecting sports fans at http://www.SportsDigger.com
Contact: Jason Hu
contact@sportsdigger.com
###
Contact
SportsDigger.com
Jason Hu
408-931-2727
sportsdigger.com

Contact