Top 100 Global Franchises Report - a Blue-Print for Succeeding in Franchise Business Opportunities
Franchise Direct (www.franchisedirect.com) has ranked the world's most successful franchises in 2009 that performed best in international markets into a Top 100 List.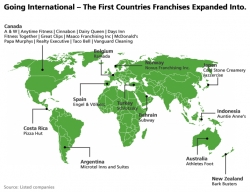 Atlanta, GA, November 19, 2009 --(
PR.com
)-- Franchise businesses have enjoyed strong worldwide growth over the last 50 years. One of the few industry sectors that is recession-proof their business model allows them to respond nimbly to changing markets and consumer demand.
The '
Top 100 Global Franchises'
for 2009 is a report produced exclusively by Franchise Direct. It lists the best franchises that have excelled at international expansion. This report is a result of many months of compiling and verifying data on over 5,000 franchises.
The Report is a valuable resource for business people who are looking for the best franchising business opportunities. This is an insider's view of the most successful franchise types operating in today's economic climate.
The 'Top 100' provide the perfect role models to emulate their success and learn from their mistakes.
Franchise Direct (www.franchisedirect.com) used strict criteria to rank the Top 100. They include a strong brand, a clear business plan, a commitment to training and support, an ability to innovate, and a sensitivity to environmental issues.
The ranking also took into account -
How well the franchise business model supports new entrants and facilitates their growth
Availability and type of financing for franchisees
Sales revenue and stability and growth of the system
Number of years in operation and extent of market expansion.
Franchisees can achieve better economies of scale since globalization has dismantled many trade barriers. This allows them to grow and develop in foreign markets. The regions most often targeted by US franchises were the Middle East, Western Europe, Central and South America and Eastern Europe.
Sandy Lasky of Pak Mail says that with locations in the US, Venezuela, Panama, Mexico, Canada and Japan, it's difficult to tell what impact the global recession has had on their expansion:
"The Pak Mail operating concept is pretty easy to adapt to foreign markets as evidenced by the success of our franchises in Mexico."
The Top 100 Franchises have these characteristics in common:
Strong and internationally recognized brands – wherever the franchise is located the same product quality and service is delivered with the same message.
Well defined business model - that is easy to replicate with a focus on reliable business and technical systems covering every operational aspect.
Comprehensive training and ongoing support – valuing the importance of quality training and skill development, follow-up and on-going support, and continuous learning.
Adaptability and Innovation - able to adapt to cultural differences in a new market and awareness of current trends. Open to new ideas like care and recreational services that respond to the growing retiree market.
The IFA's most recent Franchise Business Leader Survey found that despite the recession, franchise business leaders remain cautiously optimistic about their prospects. Many
franchises
have emerged from previous recessions in an even stronger position.
Tony Buccheri of Home Instead Senior Care says:
"….we in fact added a new market in the last 12 months and are growing revenue by double digit percentage. As a company, we have continued to invest in our marketing, our facilities and our people to ensure we are well positioned for the future."
Bill Buckley of Coffee News USA says the global recession:
"….reduced the number of franchises we have in some countries but not in all. Some have actually grown during the past 12 months."
Corinna Thoemen of Engel & Volkers (an international service company for residential and commercial real estate) said the global recession had no impact on the company's global expansion:
"Our license sales figures are up by 40 per cent compared to the first eight months of 2008. This might be due to possible licencees appreciating a proven system and a worldwide network."
Natalie Zupo of PuroClean says:
"Because we are a "recession-proof franchise business" serving the insurance industry, the global recession has not impacted our expansion. In fact, we are rapidly growing."
The current economy has encouraged successful entrepreneurs to consider business opportunities more carefully. They are drawn to industries that have greater long-term potential and can weather economic downturns. The fundamentals of the franchise business model is able to meet and excel in that challenge.
About Franchise Direct
Franchise Direct (
www.franchisedirect.com
) is one of the most experienced and respected names in the franchise industry. Originally operated as a franchise consultancy, it launched its first website www.franchisedirect.com in the USA in 1998. It is now one of the world's leading portals for franchise and business opportunities. Franchise Direct manages a suite of seven multilingual sites targeting North America and Europe.
###
Contact
Franchise Direct USA
Diana Thurmann
404 250 3254
www.franchisedirect.com
3355 Lenox Rd.
Suite 750
Atlanta, GA 30326

Contact