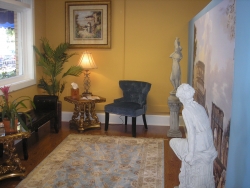 Newport, RI, November 19, 2009 --(
PR.com
)-- Renaissance Fitness Studio and Wellness Center celebrates its opening of a beyond doubt distinctive opportunity. With fitness and health at the top of the scale, Renaissance Fitness owner, Paul S. Manning provides a matchless and diverse exercise routine by offering thirty minute intensive training sessions at affordable prices. Paul is a nationally certified personal trainer.
His exclusive surroundings of old world charm fill the space at 195 Broadway. Mr. Manning states, "The ambiance of a massive wall mural picturing the Coliseum in Rome, antique statues and oriental carpeting adorn the reception area. And that is just the beginning of the elegant surroundings. What better way to introduce the benefits of cardio respiratory and functional training?"
Paul is accompanied by Catherine Rowe, Personal Trainer who studied at The International Sports and Science Association,and is a certified Tai Chi Instructor. Catherine's approach to training is with the whole body and mind technique encouraging her clients, one step at a time to better their lives through fitness and good health.
In addition to the studio Paul offers the perfect marriage of health, fitness and lodging, coupling his fitness routines with an all-inclusive stay at The Kitt Shepley House, owned by him and his wife, Linda S. Manning. Packages for weekends or longer and can house fitness retreats for couples, families, girlfriends and male bonding. Packages include healthy meals, snacks, personal training and more.
Forming a team of professionals to complement the experience at Renaissance Fitness is Melissa Kirdzik owner of Eat to Live, a registered and licensed dietitian. Melissa will cook up a one of a kind plan for your nutrition needs. Melissa was the official dietitian for Shape Magazine and heralded a weight loss diary column. Her expert nutrition advice has assisted many. Melissa has also appeared on ABC 6 news and WRNI Holistic Health and Wellness Show. She brings wisdom and knowledge to the Renaissance Fitness Team and accepts most insurance health plans.
Also in house is Hallie Lynn Scrabak owner of The Massage Place. Hallie with twelve years experience will release the tension in those sore muscles and create an atmosphere of calm and relaxation. Hallie has a plethora of massage techniques to reduce the stress in your life.
Lastly, Dr. Kristine Thomas, Chiropractor graduated from the Life College in Atlanta Georgia. She has a gentle approach to chiropractic adjustment creating a well balanced body.
With his team together Manning states, "We are proud of what we offer to the general public and hope to make a difference in ones life by offering a full health and wellness approach."
For more information contact business manager Linda S. Manning, LMann23@aol.com or Paul S. Manning, thefitmann@aol.com for a personalized tour of the facilities or to interview any of our in house team of professionals.
About The Team www.renaissancefitnessnewport.com www.kittshepleyhouse.com www.eattolive.biz
###