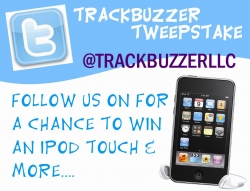 New York, NY, December 02, 2009 --(
PR.com
)-- Track buzzer, A revolutionary digital delivery, marketing and promotions company has announced a partnership with internet radio giant Jango to promote artists via its radio stations. Now as TrackBuzzer client you can set up a 'Jango Airplay' account (if you don't already have one) and receive 350 Free Radio spins on Jango.com, where 7 million users create custom radio stations that play the artists they select plus similar artists Jango recommends. "Jango is leveling the playing field for artists and labels on a shoe string budget and helping them get the promotion they need" said DJ Onpoint " Our services are also built around artists with limited budgets so the tie up was natural."
Jango Airplay is a special promotional package on Jango.com that gives emerging artists guaranteed airplay and exposure on Jango.com radio stations – as "similar artists" alongside the popular artists of the user's choice.
'Jango Airplay guarantees that your music will be played on Jango.com to the people who like the style of your music and are eager to hear new artists–it's that simple.' said Sean Holland - Jango Airplay - Artist/Label Relations.
Trackbuzzer plans to use this partnership as a platform to create more opportunities for its clients and plans on striking similar partnerships in the future. " Our main focus has been to expand our reach by partnering with other businesses that fit our services because it allows us to package and offer our clients a diverse array of services at a discount" said DJ Finesse.
Trackbuzzer also announced the first two winners of their tweepstake giveaway contest on twitter. "We would like to congratulate @giftd1 and @sididdy for both winning an 8 gig ipod touch through our tweepstakes" said DJ love Dinero " they both managed to beat out everyone else in answering our trivia questions for day one and two". Track buzzer's tweepstake which began on nov.23 is scheduled to run every other day until dec.4 with the next round starting tomorrow at 12 pm. Prizes include Ipods,stero systems and studio recording time at Hall of Fame studios formerly home to music legend Jam Master Jay's studio. For more info visit twitter.com/trackbuzzerllc or trackbuzzer.com/contest
About Trackbuzzer.com
Trackbuzzer.com is a revolutionary digital marketing and promotions company. Established in 2009 by some New York City's most influential DJs, Trackbuzzer.com provides artists and labels with the means to service their records to industry insiders and potential new fans.
###