Projects Abroad Pro - Qualified Volunteers in Action
Projects Abroad launch new initiative for skilled and qualified volunteers.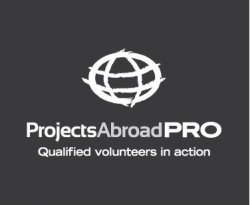 Goring by Sea, United Kingdom, November 23, 2009 --(
PR.com
)-- Volunteering organisation Projects Abroad have officially launched an innovative initiative for skilled or qualified volunteers. Projects Abroad Pro offers recent graduates, professionals on a career break and retired seniors the chance to make a difference, using their knowledge and training to help some of the poorest communities in the world.
With projects based in 17 countries throughout the developing world, encompassing areas such as business, culture and media, education, engineering, the environment, human rights, medicine and social work; anyone with a skill to offer will find themselves in demand.
David Flaschner was the first volunteer to travel overseas with Projects Abroad Pro. Having recently graduated from Leeds University, he also possessed an FA coaching qualification and was looking to help young footballers in Africa. Projects Abroad Pro placed David at a youth club in Ghana, West Africa, who were in need of guidance regarding training and organisation. David said of his time in Ghana,
"I found it interesting that although they were used to having volunteers at the club, there was no real structure to their training and a lot of their work was really old-fashioned. I was able to use my experience to design a proper training timetable and make sure that they warmed-up correctly. I held a mini training session for the coaches and some other volunteers so that I could show them some modern methods of training. I'm pretty confident that they can now continue this work long after I'm gone and it will really help the club progress in the future."
Scott McQuarrie, Director for Projects Abroad Pro, said, "Our goal has always been to look forward and constantly seek ways to improve the work we do in our overseas destinations. After consultation with both previous volunteers and the local people involved in our projects we decided that the best way to achieve this is by actively recruiting skilled and experienced individuals to work alongside them. We value the work done by all of our volunteers, but we frequently find people who want to make practical use of their training and experience and this is where Projects Abroad Pro fits in."
Set up in 1992, Projects Abroad specialises in offering volunteers a diverse range of projects and destinations throughout Asia, Africa, Eastern Europe and Latin America. Projects Abroad offers 80 different placements in areas such as sport, medicine, teaching, conservation, journalism, business and community development.
For further information about this and other projects contact Scott at Projects Abroad Pro on:
+44(0)1903 708 300, +44(0)7789 990 005 or visit
www.projects-abroad-pro.org
Notes to Editors
Additional photographs and interviews with David or Scott are available upon request.
###
Contact
Projects Abroad Pro
Scott McQuarrie
01903708300
www.projects-abroad-pro.org

Contact