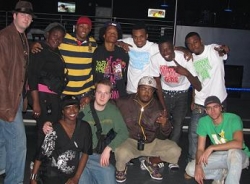 Atlanta, GA, December 02, 2009 --(
PR.com
)-- After directing music videos for popular hip-hop, pop and alternative artists from Detroit to Los Angeles, director Dennis McKinley marks his Atlanta directorial debut and official move to the city lensing "Go Shorty Go," an upbeat club video for hip-hop group, Travis Porter. Fellow rappers, Dem Franchise Boyz, Lil Chuckee, DJ Teknikz, and DJ Spinz Hoodrich dropped by the set for cameo appearances.
"Travis Porter's energy and positive attitude made the video come to life," said McKinley. "I also respect their hustle; they stay on the grind. Like Soulja Boy, these young men didn't wait around for a record deal. They created their music, put it online and now they're blowin' up across the country."
McKinley continues, "That's what McKinley Presents is about. We're not waiting for the studio to make our movies. We're doing our own thing, pushing the limits of new technology to make low-cost films and videos with high production value. In 2010, we're going hard producing feature films and developing music mini-movies comparable to Michael Jackson's Thriller."
The video, filmed on location in a trendy Atlanta nightclub, begins with Travis Porter in the VIP area reminiscing about the previous weeks party. After walking through the crowd of over 200 club-goers, exotic dancers and pole dancers, Travis Porter uses the bar as their stage and puts on the performance of their career.
McKinley credits the success of this video to his all-star support crew which included: James Houk, director of photography, Ishamel "Ham" Isring, assistant director, and co-producers, Hamadi James and Kim Bell.
"I moved my operations to Atlanta because it's one of the hottest spots in the country for entertainment," said McKinley. "I have two feature films in development and, according to my research, this city has the talent, crew, celebrities, and film incentives to get the job done. It's an economically sound business move for my company and it doesn't hurt that I love Atlanta," said McKinley who holds a bachelors degree in economics from the University of Michigan and a certificate from Dov S-S Simens' internationally recognized, Hollywood Film Institute.
Kim Bell adds, "We're excited about our move to Atlanta. In addition to producing music videos and commercials targeting the younger demographic, McKinley Presents will focus on telling provocative, realistic, and constructive stories. I majored in political science so you can count on us making some noise and keeping it very real."
McKinley Presents is a film and video production company responsible for the production of two television shows and over 30 music videos, commercials and short films. The company currently has two films in development to shoot in 2010, "Mary Magdalene" and "Young Boys" about the legendary Detroit gang, Young Boys Inc. For more information on McKinley Presents visit www.myspace.com/dennismckinley.
###