CardStays™LLC Launches New Product, Online Store and 'Cash4Collars Program'
CardStays is the first product to combine a traditional business card/marketing message with two built-in and reusable dress shirt collar stays. The size of a credit card, CardStays can be kept anywhere. Never again will the well-dressed man have to stress about being without proper collar stays. And, because CardStays can be custom-branded and are reusable, they are sure to provide a long-lasting, favorable impression. "Be Remembered When They Forget."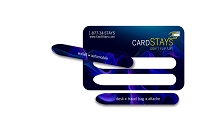 Aurora, CO, December 07, 2009 --(
PR.com
)-- A new company, CardStays LLC, is offering a cash incentive for sales leads that turn into closed deals for their custom-branded line of CardStays cards.
"The 'Cash4Collars Program' is our way of announcing the introduction of our CardStays cards and rewarding those who help us get off to a great start," said Jeff Narajka with CardStays.
With a nod to the popular "Cash for Clunkers" program here in the US, the "Cash4Collars Program" allows anyone to 'cash in' on their contacts.
"Individuals and/or businesses simply 'trade-in' a sales lead to us. If that referral turns into a completed sale for our custom-branded line of CardStays cards, we will award a 'cash rebate' back to the provider of the referral," Mr. Narajka continued.
Referral bonuses will depend upon each individual order, but the minimum award for a qualifying deal will be $100.00 US.
Targeted industries include:
· Hospitality: Guestroom amenity, Concierge, Front Desk, Gift Shop, Mini-Bar
· Retail: Point-of-Sale Purchase, Customer Thank You
· Corporate: Trade-Show Giveaway, Corporate Identity, Marketing Collateral, New Product Rollout, Prospecting, Client Retention, Sales Calls
CardStays cards are easily customizable and can be created for any business with their logo, photo, marketing message and/or simply their contact information.
To see more details about custom-branded CardStays cards and to view the sample design gallery, visit the company website: www.CardStays.com.
About CardStays Cards:
CardStays cards are a new and innovative product that solves a problem that has been frustrating the well-dressed man for decades, the forgotten or misplaced dress shirt collar stays.
The size of a standard credit card, CardStays cards contain two built-in and reusable shirt collar stays that snap back into the card after each use.
The product solves the too-common problem of a dress shirt being ready for use, but the shirt collar stays are not. The company calls this problem a "CollarCrisis™".
Jeff Narajka, Partner with CardStays; "Any businessman can tell you that this situation usually happens at the most inconvenient of times: Just before an important meeting, job interview or while traveling. Being dressed properly affects not only a man's appearance, but his confidence and focus as well. As a salesperson, there is nothing more distracting than sitting in a meeting wondering if your shirt collar is flipped up while you're trying to make a good impression."
No longer will "emergency" collar stays have to be fashioned out of paperclips, toothpicks, pen caps or folded business cards. There is now a solution: CardStays™ cards.
Whether custom-branded CardStays cards are used as a business card with "a twist" or as a customized marketing tool, the message is sure to be remembered.
Additionally, consumers and businesses can purchase non-customized CardStays cards in the online store on the CardStays website.
Made in the USA from eco-friendly materials, CardStays are small enough to keep just about anywhere. There is no longer a reason to be without proper collar stays whenever and wherever they are needed.
Wallet - Automobile - Desk - Travel Bag - Attache - Anywhere.
About CardStays LLC
CardStays LLC was founded by a team of experienced entrepreneurs and sales experts. After being frustrated by the quality and effectiveness of other advertising products, the CardStays card was born. The company believes that CardStays is a unique product that will satisfy the needs of all parties: businesses, customers and end-users.
For more information, please visit the CardStays™ online store or website at
www.CardStays.com
.
Jeff Narajka – Partner
CardStays LLC
email: sales@CardStays.com
Phone/Fax: 1-877-34-STAYS or 1-720-535-5331
###
Contact
CardStays LLC
Jeff Narajka
1-877-34-Stays
www.cardstays.com

Contact