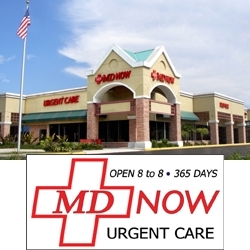 West Palm Beach, FL, December 16, 2009 --(
PR.com
)--
MD Now®
today announced a new partnership with Healthagen® to promote its Palm Beach County urgent care centers on
iTriage
™ – acute care decision tool for iPhone®, smart phone and Web-based users. Palm Beach County residents can now find the closest MD Now Urgent Care Center for immediate non-life threatening conditions, all from a mobile device.
MD Now is one of the first urgent care centers in Florida to utilize this interactive technology, which empowers consumers to evaluate symptoms, learn about the possible causes, find appropriate locations for treatment, as well as obtain cost information based on the type of facility.
"This partnership parallels the opening of our newest and largest 10,000 sq. ft. state-of-the-art Urgent Care Center, Corporate & Conference Facility in West Palm Beach, located at 2007 Palm Beach Lakes Blvd," explained CEO and Medical Director of, MD Now Urgent Care Walk-In Medical Centers, Peter Lamelas, MD, MBA, FACEP. "By providing information to our community about our newest urgent care medical center and the other MD Now clinic locations on iTriage, we are connecting with the growing base of mobile users who, in immediate care situations, need quick access for their non-life and limb threatening medical emergencies."
Helping patients access the most appropriate level of care quickly is often an overlooked component of the healthcare debate. Mobile technology and "wireless health" hold considerable promise in helping patients take a proactive step in their healthcare and MD Now will use the mobile technology of iTriage to help patients when an unexpected need arises.
"iTriage gives healthcare facilities a way to leverage mobile devices and wireless networks to provide greater access to affordable healthcare. Putting actionable healthcare information into the hands of consumers, along with facility mapping to easily find that care, is the power behind iTriage," said Peter Hudson, M.D., CEO, Healthagen.
About MD Now
As one of the largest providers of urgent care walk-in and occupational (workers comp) medical services in South Florida,
MD Now Urgent Care
has six medical clinics throughout Palm Beach County: West Palm Beach, Palm Beach Gardens, Lake Worth, Royal Palm Beach / Wellington, Boynton Beach and Boca Raton, with plans for two additional facilities next year. Each location is open 365 days a year from 8:00am to 8:00pm, including evenings, weekends and holidays.
Owned and founded by Peter Lamelas, MD, MBA, FACEP, all MD Now clinics are full service urgent care centers and provide a wide spectrum of services, treating adults as well as children. As a "Certified Urgent Care Centers" by the
Urgent Care Association of America
, MD Now provides a faster and much more affordable alternative to the emergency room, since patients are seen, treated and released in less than an hour and they are more convenient and comprehensive than just a doctor's office.
About Healthagen
Healthagen is a developer of healthcare information software that empowers patients to make better decisions and gives healthcare treatment facilities improved access to additional patients. iTriage helps consumers evaluate symptoms, lists potential diagnoses and provides access to appropriate treatment locations. The proprietary healthcare search engine integrated into iTriage surpasses any conventional search engine for point of care healthcare decision making. Emergency medicine physicians developed iTriage and co-founded Healthagen – a privately held company headquartered in Lakewood, CO.
MD Now Resources:
Website:
www.MyMDNow.com
http://www.facebook.com/pages/manage/?act=44686230#/pages/Lake-Worth-FL/MD-Now-Urgent-Care-Walk-In-Medical-Centers-Palm-Beach-County-Florida/89496604910
http://www.youtube.com/watch?v=SY5C4MknEgM
iTriage Resources:
iTriage smart phone and desktop version: www.iTriageHealth.com
iTriage Download on iTunes: http://itunes.apple.com/WebObjects/MZStore.woa/wa/viewSoftware?id=304696939&mt=8
Twitter: http://www.twitter.com/healthagen
Contacts:
MD Now Urgent Care :
Peter Lamelas, MD, MBA, FACEP, FAAEP
pldoc@aol.com
561-688-5808 / 561-420-8555
###