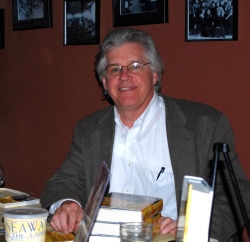 Allentown, PA, December 17, 2009 --(
PR.com
)-- Author Jeffery B. Allen had his Release Debut for his breakthrough novel
Gone Away Into the Land.
The novel's unique blending of fantasy with reality is making it a big hit among readers. Attendance for the event, which was held on the Mezzanine level of the Allentown Brew Works, was heavier than expected. Not only did the invited guests attend, but many people decided to brave the blustery cold evening after reading articles and announcements posted in the local newspapers and magazines. Toward the end of the event, diners from the restaurant who had gotten wind of the Author's presence ventured up the winding staircase to speak with Mr. Allen and obtain an autographed copy of
Gone Away Into the Land.
Jeffrey B. Allen will be embarking on a northeast book tour in January, 2010. Watch his website for times and places as his schedule develops. Please contact Mr. Allen via his website with questions about his school donation program and/or to arrange a speaking engagement.
GoneAway into the Land is a novel that is gaining momentum as readers discover the unique story line and Jeffrey Allen's gift for seamlessly fusing reality with fantasy.
###