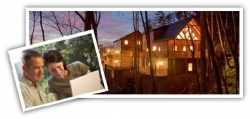 Cape Coral, FL, December 18, 2009 --(
PR.com
)--
Leisure Linx
announces the launch of four new websites, aimed at showcasing leisure accommodations and property for sale with social media. These dynamic websites enhance the Internet search experience by socially engaging visitors with the Twitter, Facebook, and LinkedIn pages of its lodging and real estate professionals. The online real estate and travel experience is further highlighted with special offers, testimonials, photos, detailed property descriptions, pricing, and booking information, along with website and email links.
Today's hurried lifestyles call for tranquil escapes that allow an appreciation of nature and a slower pace of life. The Leisure Linx websites highlight this niche travel and real estate segment, providing visitors with easy access to rustic and peaceful settings throughout the U.S., including gated communities, homes and condos, vacation rentals, cabins and cottages, bed and breakfast inns, resorts, and lodges.
With compelling content-rich designs and ease of use, these new websites provide a refreshing alternative to the long lists of inventory and advertising clutter routinely found on mega travel and real estate websites. The new collection includes:
DevelopmentsAndCommunities.com – Exceptional lifestyle communities
VistasAndViews.com – Extraordinary properties in unique settings with captivating views
CabinsandInns.com – The finest directory of cabins, cottages and inns across the U.S.
LogHomeGallery.com - The complete guide to buying, building and renting a log home
With a renewed consumer interest in relocation real estate and travel, Leisure Linx fuses the fragmented relocation and lodging industries by compiling real estate, accommodations, and travel information in an easy to use format. Visitors seeking lodging are often interested in real estate at their destination. And consumers searching for real estate away from home often desire lodging at their destination. Visitors can find it all in one place on a Leisure Linx website.
The new website collection compliments the well- established FloridaHalfbacks.com, an industry stronghold connecting visitors with travel and relocation opportunities throughout the Southeast. What is a Florida Halfback? It's a nickname given to Floridians who originally migrated to Florida from the north, but now prefer to be "halfway back" in the serene and relaxing mountain and lake areas of the Southeast U.S.
"Our cross-promotional approach combines the power of the Internet and social media," said Mary Anne Baker, owner of Leisure Linx, LLC and sought-after expert on migration trends in the Southeast. "Providing our advertisers with search and social media strategies applies a solid approach to engaging more visitors." When visitors return, advertisers win. For a small annual fee, Leisure Linx offers developers, real estate agents, homeowners, and managers the most economical and efficient marketing channel for their property. With a renewed interest in relocation and travel, it is no surprise that the Leisure Linx websites are growing rapidly as well.
###