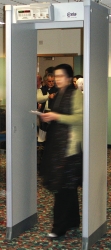 Twinsburg, OH, December 23, 2009 --(
PR.com
)-- CEIA USA is pleased to announce that it has been awarded a five year contract by FPS for the supply of Enhanced Walk-Through Metal Detectors, model 02PN20 for the protection of Federal buildings.
The 02PN20 is already deployed in the majority of US airports and is in use by many other Federal Agencies. It represents the state of the art in detection of conventional and non-conventional metal weapons, combining high security with high rates of transit. Furthermore, the 02PN20 has a high adaptability to all kinds of environmental conditions resulting in ease of installation and operation
The Federal Protective Service's mission is to render Federal properties safe and secure for federal employees and visitors. In support of this mission, the awarded contract requires CEIA USA to provide the FPS with enhanced metal Detectors for use in screening personnel at approximately 1,600 facilities nationwide.
CEIA Metal Detectors are designed and manufactured under ISO9001 standards utilizing robotic manufacturing and using SMT technology for all electronics. Together with stringent testing and QA procedures, this results in outstanding reliability and consistency of operation.
CEIA-USA is recognized as the world leader in metal detection technology with North-American headquarters located in Twinsburg, Ohio. They provide a range of enhanced walk-through and hand-held metal detectors with superior performance of detection, throughput and reliability.
For additional information, please contact:
Mark Meyer, mmeyer@ceia-usa.com or Nick Skelin, nskelin@ceia-usa.com
800-532-CEIA, 330-405-3190
www.ceia-usa.com
###