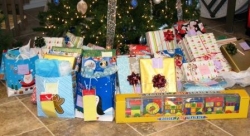 Jacksonville, FL, December 24, 2009 --(
PR.com
)-- Employees of Corporate Traffic Inc. a Jacksonville, FL based third party logistics provider, donated wrapping paper, bows, ribbons and boxes then rolled up their sleeves to wrap numerous presents purchased by the company for at risk children in their area. Each present was labeled with a child's name and age for delivery to the Guardian Ad Litem office located in the downtown Jacksonville Courthouse. There the assigned case workers received the gifts to deliver to the children's homes for opening on Christmas morning.
"When I was asked what we could do to help children this Christmas I made several suggestions with the Guardian Ad Litem being one of them. It's a cause that I have become very involved with personally and I am so proud that the company I work for not only lets me give some of my work time to them but that they were very generous in their support to the kids this Christmas" said Corporate Traffic Accounting Manager Danielle Weston who purchased the items on the child's lists and organized the event.
About the Florida Guardian Ad Litem Program.
The Florida Guardian Ad Litem program consists of community advocates and professional staff that provide a voice for Florida's abused, neglected or otherwise at risk children through volunteers, legal resources and volunteer resources. For more information on the program please visit their website at www.guardianadlitem.org.
About Corporate Traffic Inc.
Corporate Traffic Inc, (Jacksonville, FL) Founded in 1992 is an industry recognized leader in logistics and transportation services. Corporate Traffic has been listed as one of Inbound Logistics top 100 3PL's since 1999 for offering clients both quality asset and non-asset logistics solutions. At Corporate Traffic, Never Settle is more than a motto. It's a quantifiable mentality that all our employees and partners employ to get our clients the results they need, when they need them.
###