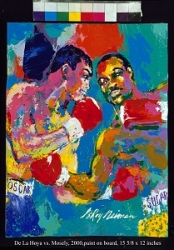 Las Vegas, NV, January 08, 2010 --(
PR.com
)-- An original LeRoy Neiman painting worth more than US$100,000 was stolen from a Las Vegas art gallery two weeks ago. A $5,000 reward has been posted by the gallery for information leading to the arrest and conviction of the person(s) responsible for the theft, and return of the art.
The painting had been on display at Centaur Art Galleries in the Fashion Show Mall during an exhibition of Neiman's art, and is believed to have been taken out of the gallery on Wednesday, December 23.
The painting, entitled "Oscar de la Hoya - Shane Mosley" and valued at $105,000, is a colorful one-of-a-kind enamel and acrylic painting on canvas. It depicts boxers Oscar de la Hoya and Shane Mosley on a blue background, and was completed by Neiman following the June 17, 2000 boxing match in which Mosley, the underdog, won a split decision over De La Hoya. The painting measures 15 5/8 inches high by 12 inches wide and bears the artist's signature, "LeRoy Neiman", in the lower right corner. The painting was in a gold frame which measures 25¼ inches high by 21¾ inches wide.
LeRoy Neiman, a resident of New York, is considered America's most popular sports artist, and has become a household name in millions of American homes. According to a Centaur Art Galleries spokesman, his original paintings are often valued at more than $100,000. Some of the gallery's Neiman paintings have sold in the past for more than $500,000, including one for $995,000.
Centaur Art Galleries is one of the largest dealers of LeRoy Neiman art. Over the years, Neiman had regularly made personal appearances at the gallery.
To report information related to the theft, call CrimeStoppers at (702) 385-5555.
For more information, call Richard C. Perry at (702) 737-1234, or email theft@CentaurGalleries.com.
###