Horror Writers Unleashed on California
Bram Stoker Award Winner Mike Oliveri will sign book one of his new supernatural thriller series, "The Pack: Winter Kill" in Burbank January 16 and in San Francisco January 17. Special guests include notable horror writers Brian Keene ("Urban Gothic") and J.F. Gonzalez ("Primitive").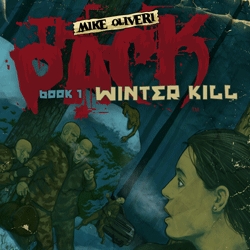 Chicago, IL, January 10, 2010 --(
PR.com
)-- Horror fans in Burbank and San Francisco are in for a treat next weekend, as a trio of the genre's popular writers come together to sign their new books and meet with fans.
Bram Stoker Award winning novelist, Mike Oliveri, headlines The Pack Unleashed Tour, as he signs book one of his newly released supernatural thriller, "The Pack: Winter Kill" (Evileye Books), a daring blend of crime, suspense and the supernatural that redefines the werewolf mythos.
A special guest of the tour is Brian Keene, who is often credited with the revival of pop culture's fascination with zombies, and is the author of the upcoming, "Darkness on the Edge of Town" and horror classics, "Urban Gothic" and "Ghouls".
Also joining the tour is California local writer, J.F. Gonzalez, who will be signing his bestselling, "Primitive" novel.
The Pack Unleashed Tour kicks off in Burbank on January 16, as Dark Delicacies Bookstore hosts the exclusive L.A. signing. URL: http://www.darkdel.com; Phone: 1-818-556-6660.
On Sunday, January 17, Borderlands Books in San Francisco will host the exclusive northern California leg of the tour. URL: borderlands-books.com; Phone: 415.824.8203.
Published by Evileye Books, "The Pack: Winter Kill" is the first volume of the ongoing series that follows the Tyler family and its struggle to live with their werewolf legacy in a modern world. The second volume of the fiction series is scheduled for release in fall 2010.
Evileye Books publishes crime, horror, dark fantasy, science fiction and other speculative fiction in the spaces of prose and graphic novels.
###
Contact
Evileye Books
Aaron Nathaniel Ommus
312.445.0943
www.evileyebooks.com

Contact