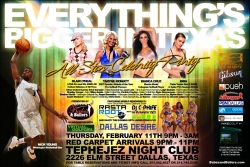 Dallas, TX, January 26, 2010 --(
PR.com
)-- What: Babes and Ballers in conjunction with Virtual Golf Girl, PSN of Dallas, Killerspin, Gibson Guitars, Kenichi Dallas, Nike Golf, FIJI Water, 97.1 KEGL, 102.1 The Edge and Bailey Street Holdings will host all-star caliber athletes, entertainers and influencers at a once-in-a-lifetime event dubbed "Everything's Bigger in Texas" Celebrity All Star Party to benefit Laptops for the Wounded.
Who: Erick Dampier of the Dallas Mavericks, JJ Barrea of the Dallas Mavericks, Ian Kinsler of the Texas Rangers, Chris Davis of the Texas Rangers, Blair O'Neal, LPGA Golfer and Sports Illustrated 2008 Top 50 Hottest Female Athletes, Oxygen T.V's "The Naughty Chef," Blythe Beck, Executive Chef of Central 214 Dallas, Biba Golic, Killerspin's Table Tennis Phenom and ESPN and Spike TV's Sexiest Female Athletes, Taryne Mowatt, 2007 ESPY Award Winning Female Athlete of the Year, Bianca Cruz, MAXIM Model and Former College Softball Sensation, Leon Lett, Three Time Super Bowl Champion, The Lovely ladies from the Dallas Desire Lingerie Football Team, Nick Young of the Washington Wizards, Leigh Bodden of the New England Patriots, Bradley Cooper, Actor, Miles Austin of the Dallas Cowboys, Patrick Crayton of the Dallas Cowboys, Ryan Zimmerman of the Washington Nationals, Shairon Martis of the Washington Nationals and Roger Bernadina of the Washington Nationals. Many More stars being added daily. (Invited Guests Subject to Change)
Where:
TePheJez Nightclub
2226 Elm Street
Dallas, TX 75201
When:
Thursday, February 11th 2010
9 p.m. - 3 a.m.
Red Carpet Arrivals between 9-11p.m.
About Babes and Ballers:
Founded in 2005, Babes and Ballers is the product the Push Media Group and was created with the goal of generating revenue for various charities while hosting the best in celebrity charity parties nationwide. Attending one of the Babes and Ballers events is a night to remember.
Originally promoting events where just a couple of celebrities and entertainers attended, Pointed Magazine and the Push Media Group held a successful breakout party titled Babes and Ballers during the Las Vegas 2007 NBA All Star Weekend and where over 35 celebrities walked the red carpet and over 2,000 people attended. The success of our event on the biggest sports weekend ever in Las Vegas history was key in planning future events.
In 2007, Push Media Group decided to trademark Babes and Ballers as a brand of stand alone parties as well as event planners and continue with the fun times taking our events to clubs, lounges and bars nationwide. Push Media Group continues to bring some of the most beautiful babes found in sports and entertainment business and combine them with some of the best ballers found for one great charitable night. Some of the charities the Push Media Group has partnered with in the past have included St. Baldrick's, St. Judes Hospital, The Street Corner Foundation, Toys for Tots, Children's Miracle Network, Susan G Komen Foundation, AIDS Foundation of Chicago and the Red Cross.
About PSN Dallas
PSN Dallas provides marketing and entertainment solutions through their network of professional athletes, sports fans and sports entertainment professionals. PSN Dallas host's numerous sponsored and un-sponsored autograph signings and appearances during Dallas Cowboys home game weekends and also game watching parties for away games and charity fundraising events for various charitable organizations including those represented by PSN's network of current/retired professional athletes.
About Virtual Golf Girl
Virtual Golf Girl provides nationwide in-home turnkey installations and all additional design solutions for media/ HD Virtual golf rooms. Virtual Golf Girl's simulator uses state of the art technology to provide superior data capture HDTV projection and surround sound for a complete home entertainment system integrated internet technology for access to the worlds top instructors play world championship golf courses and so much more.
About Killerspin (www.Killerspin.com)
Killerspin was built to bring youth and innovation to one of the world's most beautiful sports, Table Tennis. The Chicago based firm produces premium-quality table tennis equipment, sports apparel and media. Killerspin was built to serve the table tennis player.
About Laptops for the Wounded
Laptops for the Wounded is a 501(c)(3) charitable organization that provides laptops with webcams to wounded troops in military hospitals. The laptops are then used by the troops to remain in contact with wives, husbands, families and loved ones, while recuperating from their combat wounds. The laptops will then remain at the hospitals to be used by other incoming wounded troops to contact, and remain in contact, with loved ones. A donation will be made on behalf of all partners involved.
For red carpet media requests and interviews, please email media@babesnballers.com
Media Contacts:
Sol Tucker, Vice President Events, Babes and Ballers
sol.tucker@babesnballers.com
301.442.5627
Damon Tackett, President/ CEO, Pro Sports Network of Dallas
dt@psndallas.com
972.795.2604
Lynni Megginson, President/ Designer, Virtual Golf Girl
202.701-GOLF
virtualgolfgirl@me.com
Jessica Hoy, Killerspin
jhoy@bgrdc.com
202.415.1023
For more information on the party you can go to
http://www.psndallas.com/events
www.babesnballers.com
###